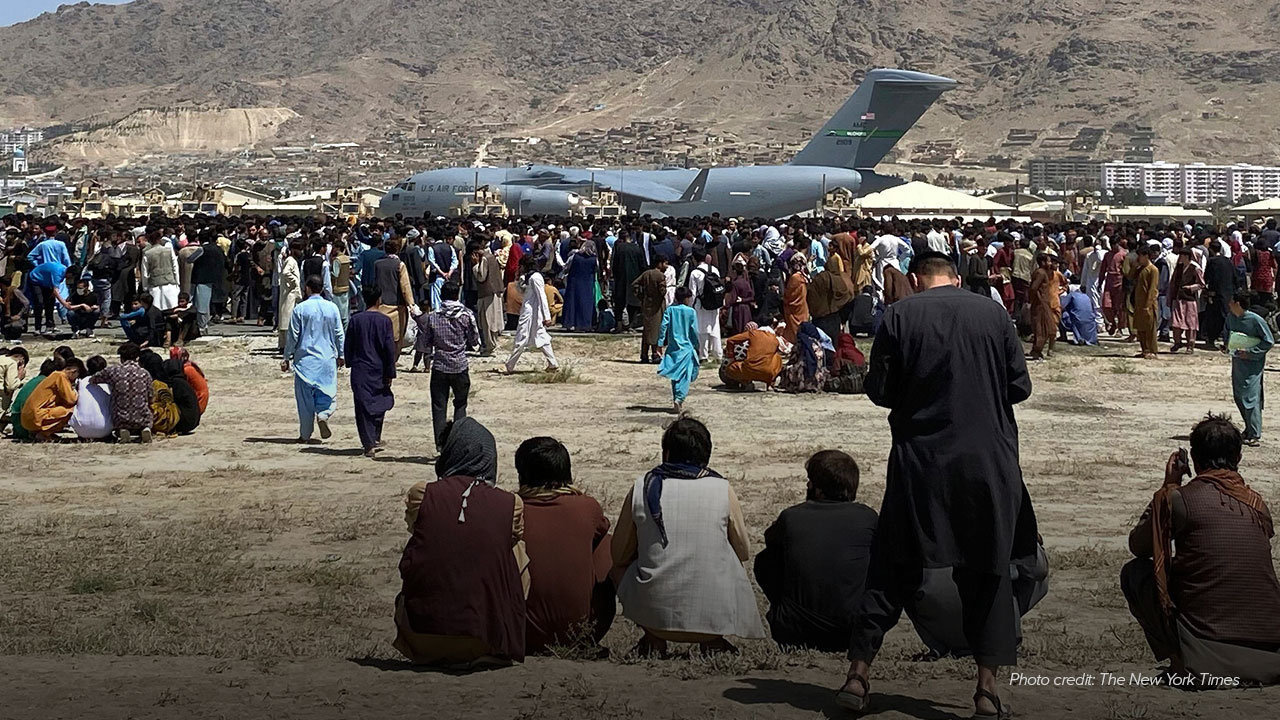 Supporting Afghan 21 Members to Reach Safety and Security
We are supporting Afghan Asia 21 members and their families, impacted by the current emergency situation in Afghanistan to get them to a place of safety and security.


THE PROBLEM
The security situation in Afghanistan continues to deteriorate while hundreds of thousands of Afghans are urgently seeking to reach a place of safety and security.
The Afghan Asia 21 network represents Afghanistan's finest young leaders, many of whom have served in key leadership positions in the Afghan government, media, civil society, and international organizations. They have been the leading voices for reform, accountability, and good governance advocating for an inclusive, representative, and tolerant society where all Afghans can live in peace and harmony.
By virtue of their professional backgrounds and expertise, we strongly fear for many of our Afghan Asia 21 friends' safety and security. The network has received numerous requests for assistance and is engaged in various efforts to support those in need.
Kopernik - as an organization co-founded by two Asia 21 alumni, together with the Asia 21 network, we stand in solidarity with our Afghan Asia 21 friends and the people of Afghanistan, and show that we will not be silent observers while their futures are on the brink of an unimaginable disaster.
THE SOLUTION
We are raising funds to support Afghan Asia 21 members who are impacted by the current crisis in Afghanistan and are in need of financial assistance for costs related to efforts for them to reach a place of safety.
All funds will be distributed to Afghan Asia 21 members in need and be used to subsidize their air tickets, transportation, accommodation, and related costs. Due to logistical, safety and protection considerations, in certain situations, funds will be disbursed to Asia 21 network members who are directly supporting Afghan Asia 21 members and their families with efforts to get them to a place of safety.
Asia Society is providing support for the Afghan 21 fellows in various ways, however Asia Society has no involvement in the solicitation, disbursement, or use of the funds for this alumni-led effort.
THE PROJECT RESULT
60% of the entire fund collected (USD23,441) was disbursed to Afghan Fellows who opted-in and remain in Afghanistan or are in a third country and the funds to be divided equally among them. 40% of the fund was disbursed to Afghan Fellows who opt-in for support to immediate family members who remain in Afghanistan and are in need of urgent financial support.
Funds were transferred using Western Union, MoneyGram, postal service and bank transfer (all documentation is held at Kopernik and with the individuals who received the funds). There is no administration or transfer fees that were deducted from this amount, and Kopernik covered the administration fees so that the full amount could be transferred to those it was intended for.
PROJECT COST
Travel and Subsistence Costs
Costs related to the Asia 21 members efforts to reach a place of safety and security
Cost of transferring payments internationally, processing online donations (5%)
Kopernik Solutions is fundraising for this project. Kopernik Solutions will then provide a sub-grant to a trusted partner organisation who will implement the project.