Celebrating Sri Kayatin's Achievements in Food Security and Community Empowerment
In celebration of this year's International Women's Day, we would like to celebrate the achievements of Sri Kayatin, one of the Wonder Women from Tuban, East Java. She won the Adhikarya Pangan Nusantara (APN) Award from the East Java Provincial Department of Agriculture for her innovative moringa-based snacks. The award acknowledged her contribution to food security and community empowerment in Tuban.
Since 1979, the APN award has been awarded by the Indonesian Ministry of Agriculture to extraordinary individuals and groups that contribute to food security in Indonesia.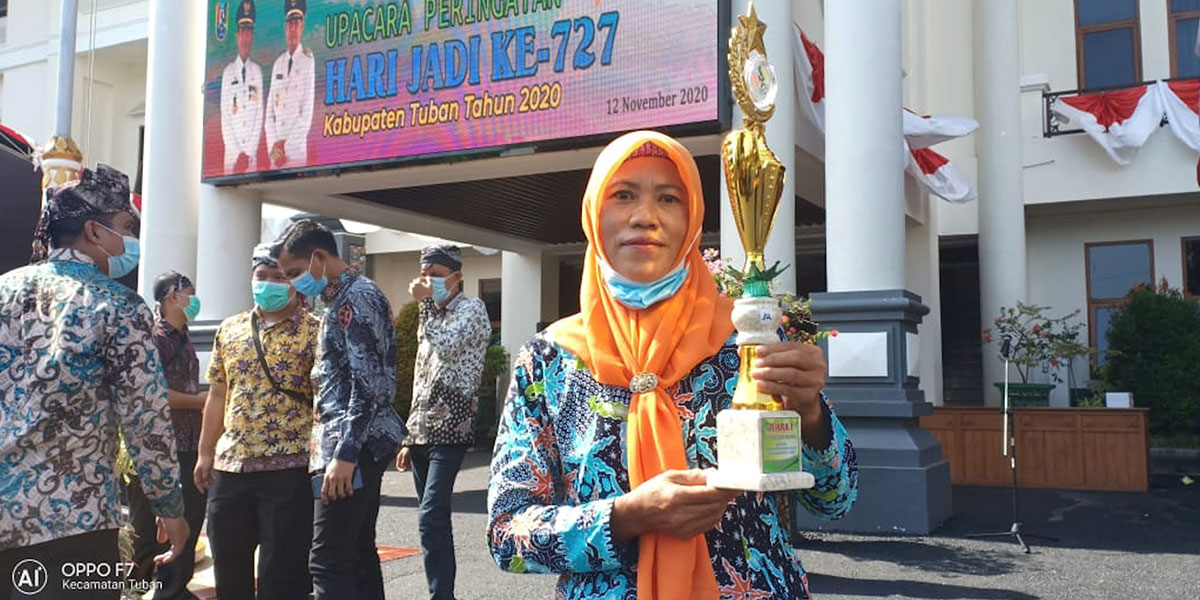 Sri Kayatin won first place in the Adhikarya Pangan Nusantara (APN) Award in the category of "food security pioneer."

Sri Kayatin joined the Wonder Women Initiative in 2019, and has been focusing on her business management, financial, and marketing skills to grow and improve her business. Her enterprise, D'KAYAteen, produces a range of snacks made from fish, lobster, and beef. Recently, leveraging the growing popularity of moringa and its tremendous health benefits, she began to innovate and develop moringa-based chips and crackers. Typically, people only use moringa in its vegetable form, but Sri Kayatin started to process moringa leaves into healthy and nutritious snacks.
Moringa is considered to be a "superfood" for its high nutritional content. The Indonesian Ministry of Health states that moringa has three times more potassium than bananas, four times more calcium than milk, seven times more vitamin C than oranges, two times more protein than milk, and four times more vitamin A than carrots. Moringa is highly recommended to be consumed by pregnant women and children under the age of two to prevent stunting.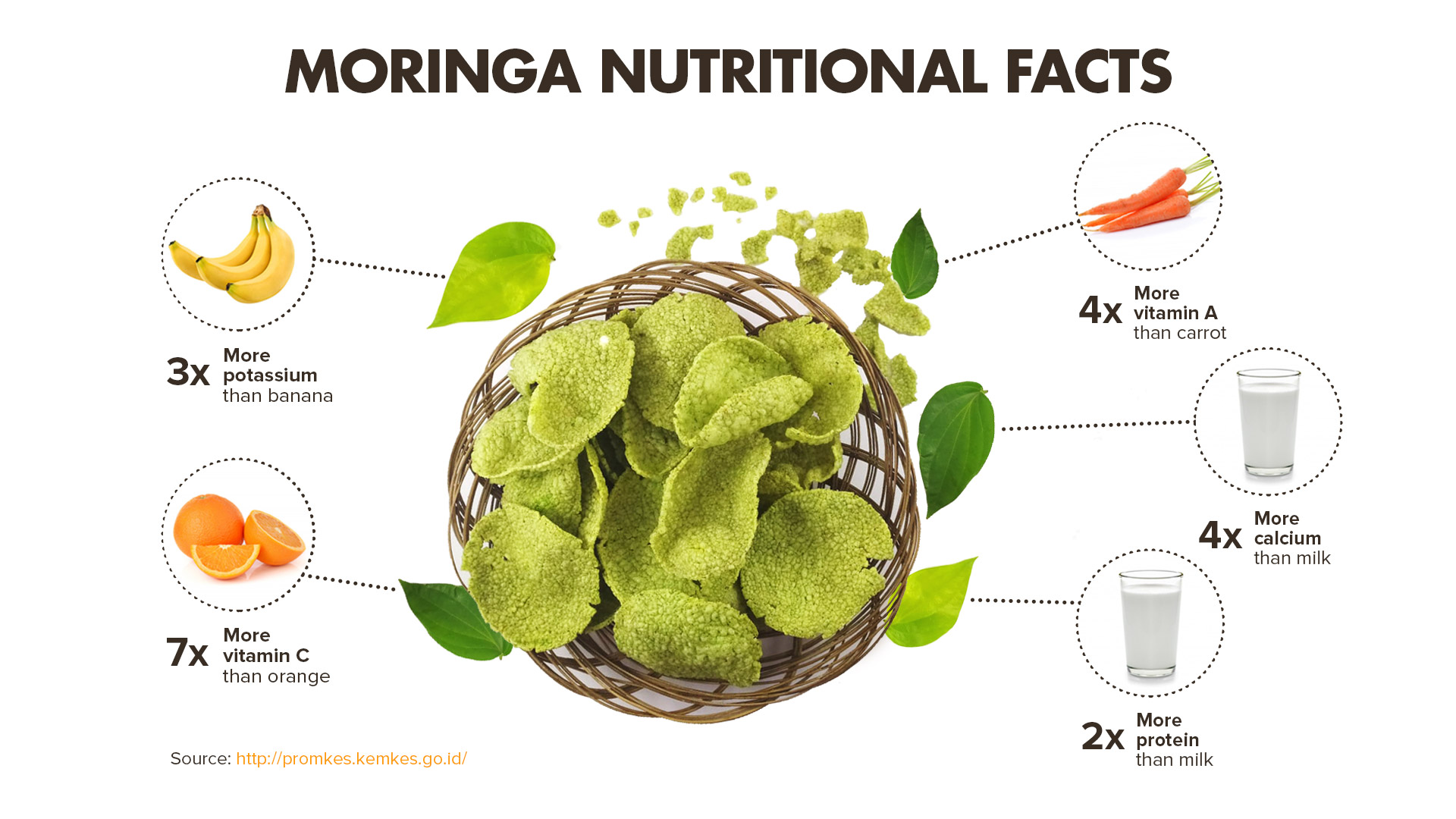 Moringa's nutritional benefits

Developing a new food product is not easy and requires trial, error, and perseverance. When Sri Kayatin began experimenting with the new product, she faced a number of challenges - for example, initially the moringa crackers would not puff up properly when fried. However, after many attempts, she was finally able to produce moringa chips and crackers which had consistent quality and flavor.
With the support of the Program Team, Sri Kayatin obtained the necessary government permits and halal certificates to operate her enterprise legally. With the required licenses in hand, she can now produce and promote the moringa-based products widely in shops and supermarkets and has entered markets not only in East Java but also in West and Central Java, Jakarta, Bekasi, Bali, and North Sumatra.
Sri Kayatin's success has resulted in economic benefits for her and her family as well as for other women in Dawung Village, Tuban, East Java. With a growing business, she now employs seven women who help her in the processing, packaging, and delivery of the products, providing them with regular employment and income. Currently, every month Sri Kayatin is selling more than 3,500 packages of moringa snacks at a price of IDR 7,000/pack (USD 0.49/pack).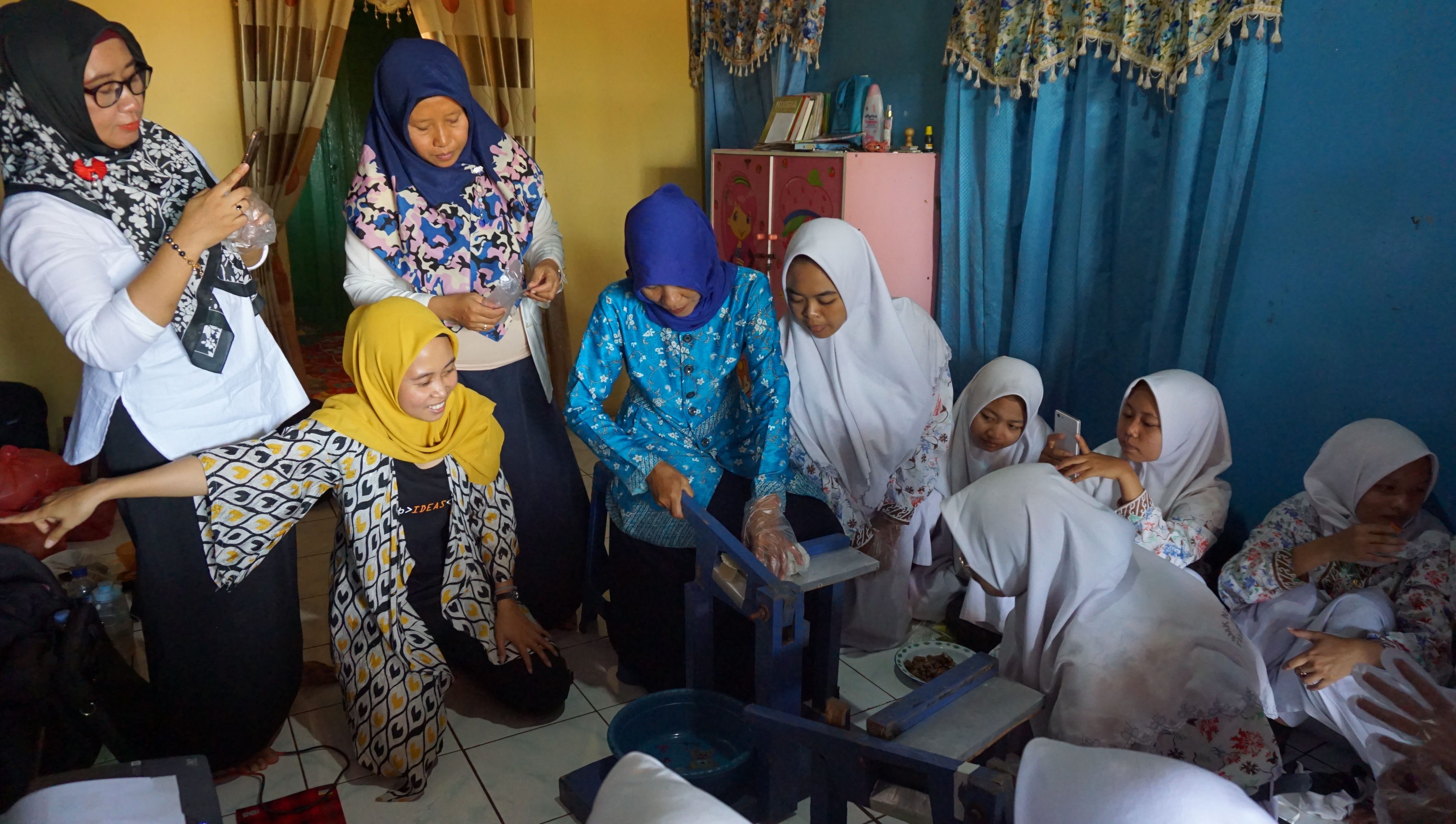 Vocational school students learned how to manage a home-based industry from Sri Kayatin, an entrepreneur who is part of the Wonder Women Initiative.

Sri Kayatin actively shares her experience with others. She is a regular presenter at Wonder Women training sessions to share her insights and motivate other women entrepreneurs on how to run a successful home-based food business. She has also taught students from a vocational school in Tuban on how to establish and manage a small scale industry at home.
During the COVID-19 pandemic, Sri Kayatin pivoted her marketing strategy and developed a reseller model alongside her online marketing using Whatsapp, Facebook, and Google's My Business. Through the online platforms, she was able to continue to sell her products beyond stores and supermarkets and maintain the sustainability of her business while continuing to provide much needed employment for her team.
In 2021, Kopernik's Wonder Women Initiative continues to support 100 women entrepreneurs in East Java to build their businesses by getting them e-commerce savvy to respond to the growing reliance on online shopping during the pandemic. We are also supporting the diversification of their products, providing business and financial management support, providing sustainable access to market and potential buyers and supporting the entrepreneurs to obtain all necessary operating permits to enable them to transition from the informal to the formal sector.
Rudy Susilo contributed to this article.