A Stunting Prevention Initiative: Moringa at Home for Healthier Meals and Families
There was excitement in the air when we arrived at Daha Elu Village in Central Sumba, East Nusa Tenggara. All the mothers greeted us with warm – and sometimes shy – smiles, while carrying their babies and toddlers. Most of their children looked much healthier than the last time we visited the village. When we asked what they'd eaten for lunch, a lot of the mothers answered, "we had moringa!"
Moringa is now the superfood of choice in Daha Elu Village. It was a great sight to see and a piece of good news we'd like to share with you.
We were there to conduct an end-line survey for a stunting prevention initiative that focused on nutrition-sensitive agriculture training and education. Part of the initiative was establishing home gardening to improve household nutrition intake and reduce stunting. East Nusa Tenggara has the third-highest prevalence of stunting in Indonesia, with more than a third of children under two years old being reported as stunted. In Central Sumba, stunting prevalence has reached a staggering rate of 45.4% (BPS, 2018).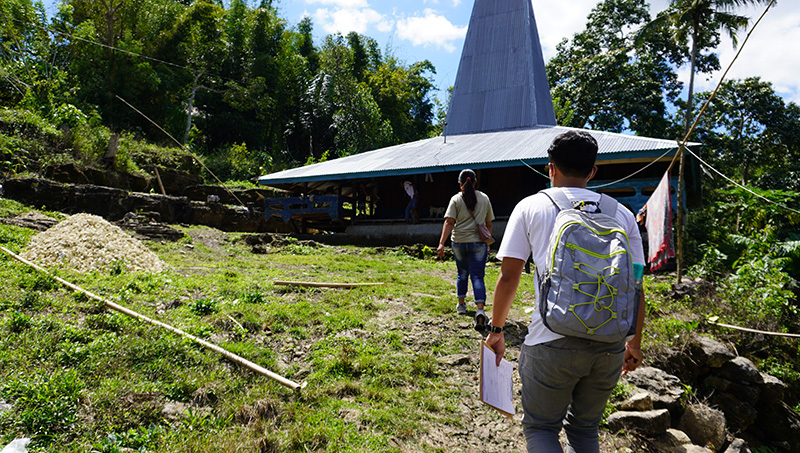 End-line survey for stunting prevention initiative through moringa distribution in Daha Elu Village, Central Sumba.
This initiative was a follow-up to Kopernik's first stunting prevention initiative in Daha Elu Village. In the first phase, we distributed water filters and height charts, and conducted educational workshops on clean water and stunting prevention among households with pregnant women and mothers with children under two years old.
During the first phase of the initiative, we found that these households were primarily consuming rice, corn, and roots – starchy foods that are generally low in vitamins, protein, and minerals. This low dietary diversity in the village was one of the drivers of its high stunting prevalence: 56% of its children under two years old were reported as stunted. Having a nutritionally-balanced diet with a diversity of food is essential to ensure healthy children and families.
As part of a solution to address the high stunting prevalence, Kopernik conducted educational training for the mothers and their husbands on the importance of having a nutritionally-balanced diet in their households. We also provided moringa seedlings to be planted in their houses – with training and assistance from a moringa expert. Our goal was for these households to have a more balanced diet and consume moringa regularly from the trees they planted, minimizing the risk of child stunting.
Moringa: the magic plant
In recent years, moringa has gained popularity as a new 'superfood', recognized for its nutrients and antibiotic and anti-inflammatory qualities. All parts of the plant are edible; the leaves can be consumed fresh or ground into powder, and the seeds can be infused in hot water for tea and used to purify water. Moringa also thrives in areas prone to drought and is an excellent source of green vegetables when other options are limited.
However, many in Indonesia are not yet aware of the nutritional benefits of moringa as a food – education and promotion are still needed. Moringa or kelor in Indonesian is more widely known as the magical plant that can cast away black magic. Perhaps the high-nutrition content in moringa created the perception that it can help in supernatural matters.
According to the Food and Agriculture Organization of the United Nations, moringa is also rich in protein, vitamins A, B and C, and minerals, which are highly recommended for pregnant and nursing mothers, as well as young children. In February 2020, the governor of East Nusa Tenggara also encouraged all households to plant moringa at home and consume it more often.
With its wide range of nutritional benefits, moringa can contribute to reducing the risk of stunting. Further, its hardy nature and the governor's directive also made it suitable for our stunting prevention initiative in Daha Elu Village.
The ambition to plant moringa and increase knowledge of a nutritionally-balanced diet
Seven months after we started the project – during which the nutritional education training had been conducted and moringa seeds distributed –it is safe to say that the families are consuming more moringa and the households have become more aware of nutritionally-balanced diets.
However, most mothers faced challenges in keeping the moringa trees alive. From a total of 245 moringa seeds distributed to 49 households in Daha Elu Village, only 55 trees or 22% survived.
"My goat ate the moringa the other day," said Mama Nia, one of the mothers we interviewed. Along with proximity to livestock, heavy rain and the recent cyclone that affected the village were other reasons the moringa seeds did not grow well. Despite these challenges, their willingness to continue growing the moringa remains strong. Almost all mothers we interviewed said they are trying to find replacement moringa seeds or plants to ensure they can have and consume it from their own gardens.
58% of the 27 mothers we interviewed said they have been consuming more moringa. Some consumed it from plants grown in their own homes, while most obtained it from their families or neighbors. Normally, these moringa leaves would be mixed with rice porridge or noodles, stir-fried with garlic, or cooked into a clear soup.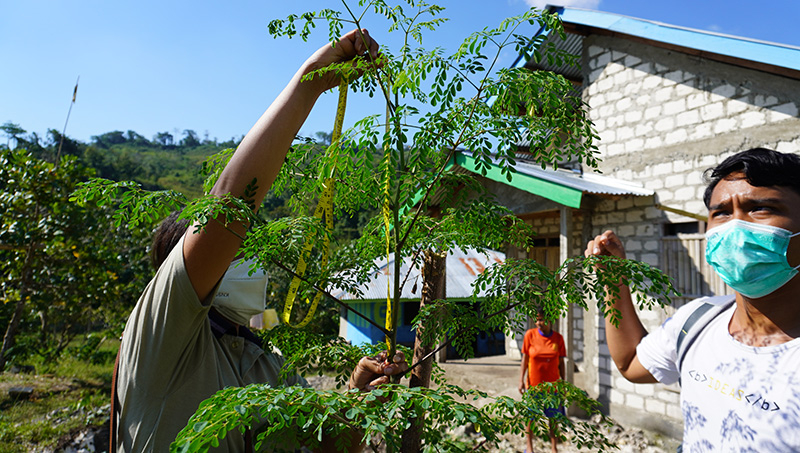 Measuring the size of a moringa tree in one of the households.
"Healthy mother equals healthy child, especially during breastfeeding," stated one of the mothers during the survey.
Since we conducted the educational training on a nutritionally-balanced diet and provided nutrition charts to the households, 70% of the 27 mothers we interviewed have become more aware of the importance of diversifying their diet and have started applying it to their family meals. For example, they have added more fruits such as papaya and proteins like fish to their everyday meals.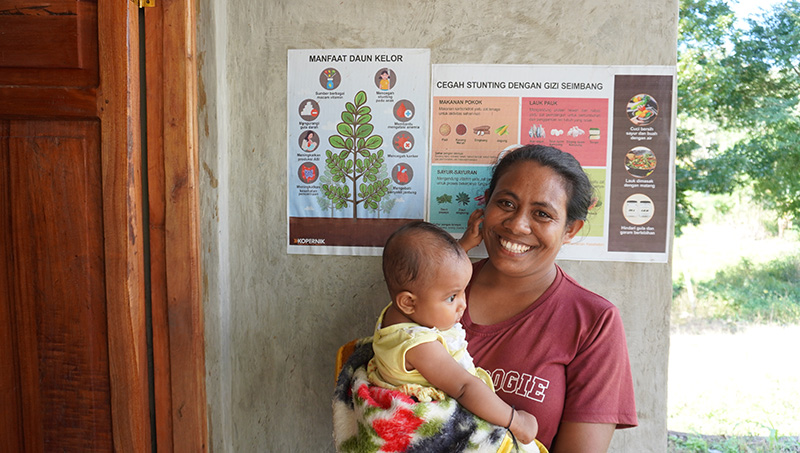 A mother and child in front of posters with information about the benefits of moringa and a balanced diet chart to prevent stunting.
One of the factors hindering families from having a more varied and nutritionally-balanced diet is economic consideration. Families aren't always able to buy fish or tempeh from the market and mostly rely on what grows in their garden for meals. However, they do try to have a balanced meal whenever possible.
A village effort
The cadres of Posyandu (integrated healthcare center for mothers and children under five) played a big role in the success of this initiative. As well as regularly monitoring the growth of babies and toddlers in the village, the Posyandu cadres have been actively encouraging mothers to take good care of their moringa plants at home and follow a nutritionally-balanced diet whenever possible.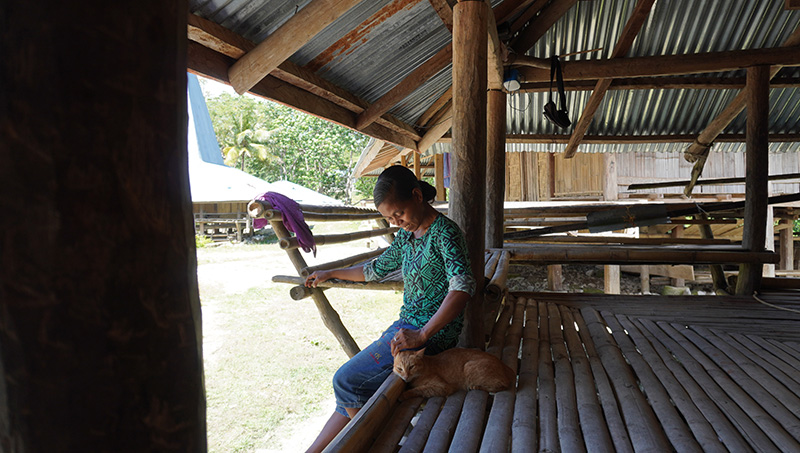 Mama Putri, Posyandu cadre in Daha Elu Village.
Mama Putri, one of the cadres, also tries to inspire mothers with different ways of consuming moringa, such as turning the leaves into a cup of tea!
"There are 33 kids that I monitor at the Posyandu. Previously, eight of them were stunted. Now, most of them are considered healthy and only three are still stunted," she told us.
The village head, Pak Dodu, also showed his great support in ending stunting in Daha Elu Village. He mentioned that it is wonderful to see the women and mothers in this village participating actively in Kopernik's initiative. "Due to the COVID-19 pandemic, the support for women and children's health has been reduced. The support provided by Kopernik is very timely and helpful," said Pak Dodu.
As the famous proverb goes, it takes a village to raise a child – and yes, I agree with this. It does take active involvement from all elements of a village: parents, Posyandu cadres, and the village head, to raise healthy and happy children free from stunting.
-------
More detailed information about the project report will be published on Kopernik's website. Stay updated by following our social media or subscribe to our monthly newsletter here. The stunting prevention initiative: growing moringa at home was made possible through the generous support of Daiwa.