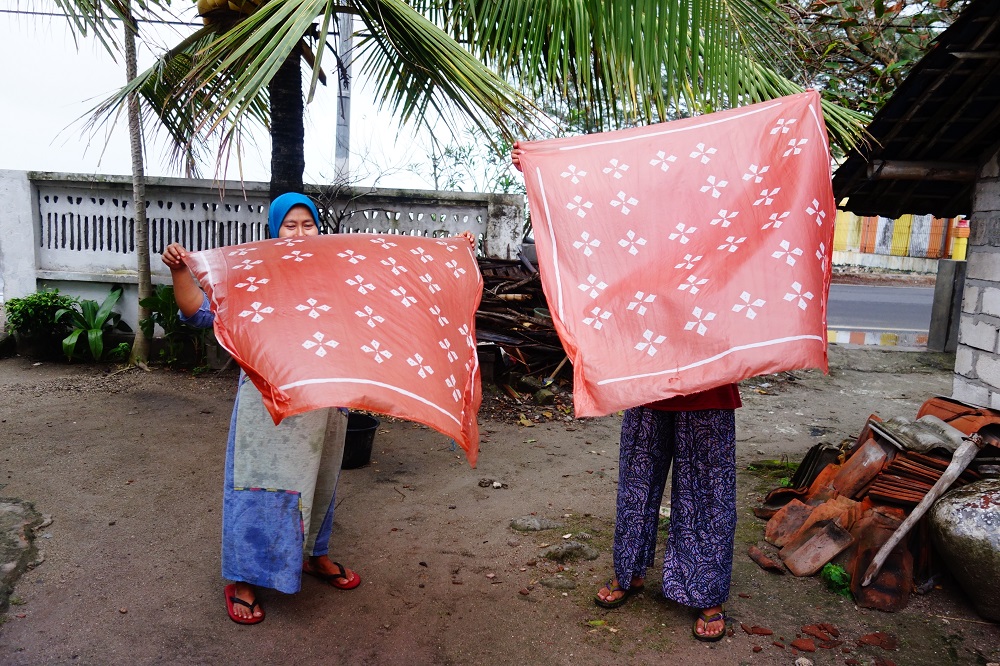 Natural Color Batik: Expanding Markets and Conserving the Environment
Gesikharjo village in East Java lies along the northern coast of the Semarang-Surabaya main road. Villagers in this area, particularly the Gesik neighborhood, still practice the traditional method to create classic batik inherited from their ancestors. Crafting batik provides for additional income for the villagers, whose livelihoods mainly rely on farming or trade.
Since the beginning of 2017, ExxonMobil Foundation partnering with Kopernik, has assisted several women entrepreneur groups in Tuban regency, East Java through our economic empowerment program, Wonder Women. One of the groups is a collective of batik artisans led by Ibu Koestini with four other artisans: Ibu Muntiani, Ibu Sri Endah Ekowati, Ibu Lilik Dinarti, and Ibu Eny Sukarsi. This group of batik artisans has typically used synthetic coloring when crafting batik because it is more practical and widely available. But upon realizing the effects of industrial waste from synthetic coloring on their community and the surrounding environment, they were interested in learning about natural coloring for batik.
As a way to support Ibu Koestini and her business group, Kopernik has been working together with Sukkha Citta since 2017 to increase the capacity and the market access of products made by women entrepreneurs in the Wonder Women program. Sukkha Citta is a fashion retailer with a mission to push for inclusive growth in Indonesia's arts and crafts industry.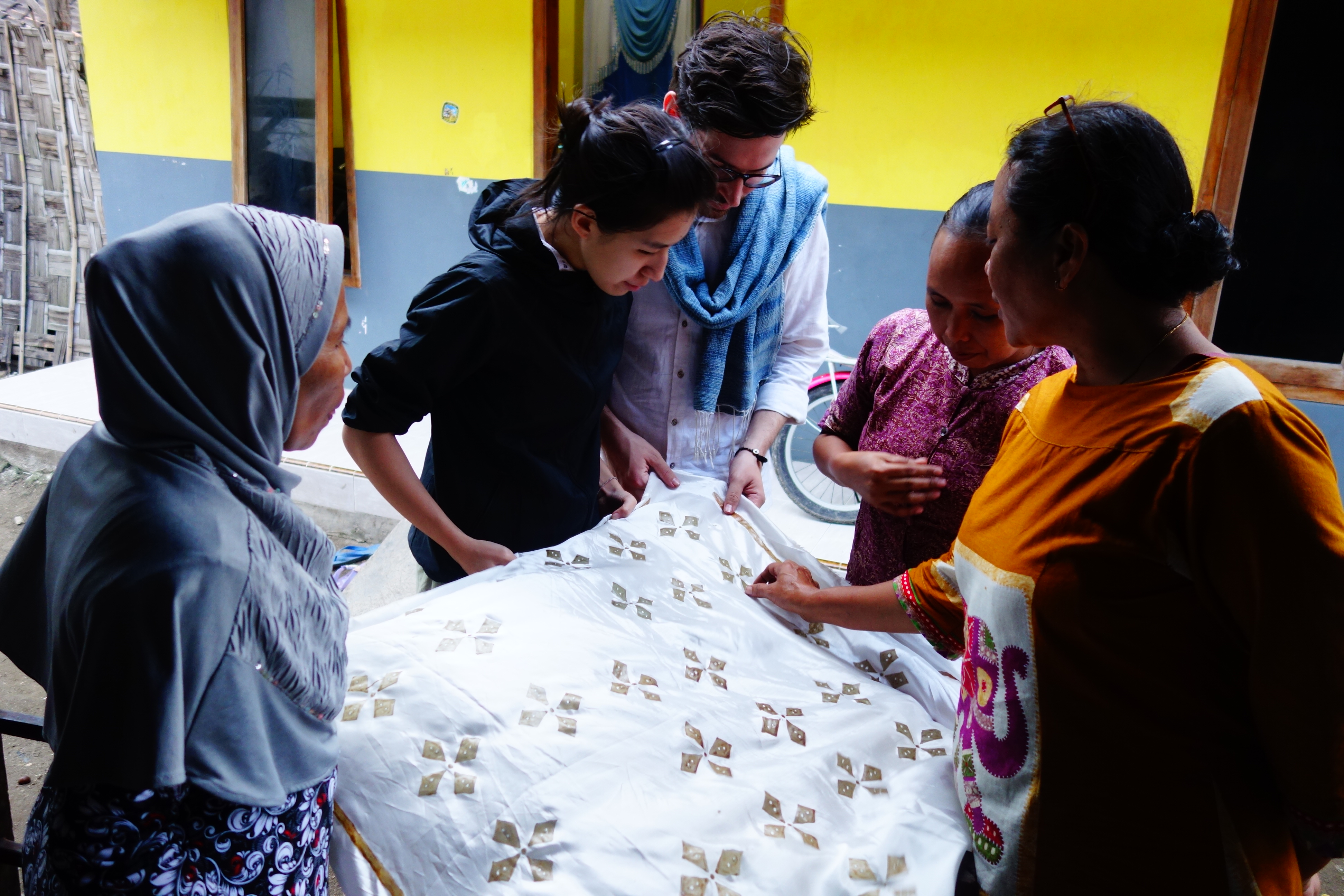 With support from ExxonMobil Foundation, Kopernik has been working with Sukkha Citta in training Wonder Women in Gesikharjo village, East Java on natural coloring techniques.

In the past year, Ibu Koestini's batik group has participated in workshops on natural coloring techniques and simple batik patterns with the hope of reaching a wider market. The availability of various natural dyes easily found in the Gesikharjo area╶ such as mahogany (Swietenia mahagoni), palm (Areca catechu), indigo (Indigofera tinctoria), water apple leaves (Syzygium Aqueum), and peacock flower (Caesalpinia Pulcerrima)╶ further supported their efforts to use more natural coloring in their crafts.
Ibu Koestini's batik group also received support from Sukkha Citta, which provides them the fabric that will be crafted into batik using the natural coloring methods and simple patterns from the workshop. The batik fabric made by Ibu Koestini will then be processed further by Sukkha Citta, and transformed into fashion apparel that is sold internationally.
The partnership with Sukkha Citta has helped to increase the income of Ibu Koestini and the other batik artisans by 140% every month. Since the batik patterns for Sukkha Citta are relatively simple, they are able to create more than one piece of cloth in one day. This means that over the month, the batik group has ample time to take orders from Sukkha Citta while also creating their own traditional brand of classic batik. Prior to the partnership with Sukkha Citta, the batik artisans typically spent more than a month to create one piece of cloth, which may not always be sold right away.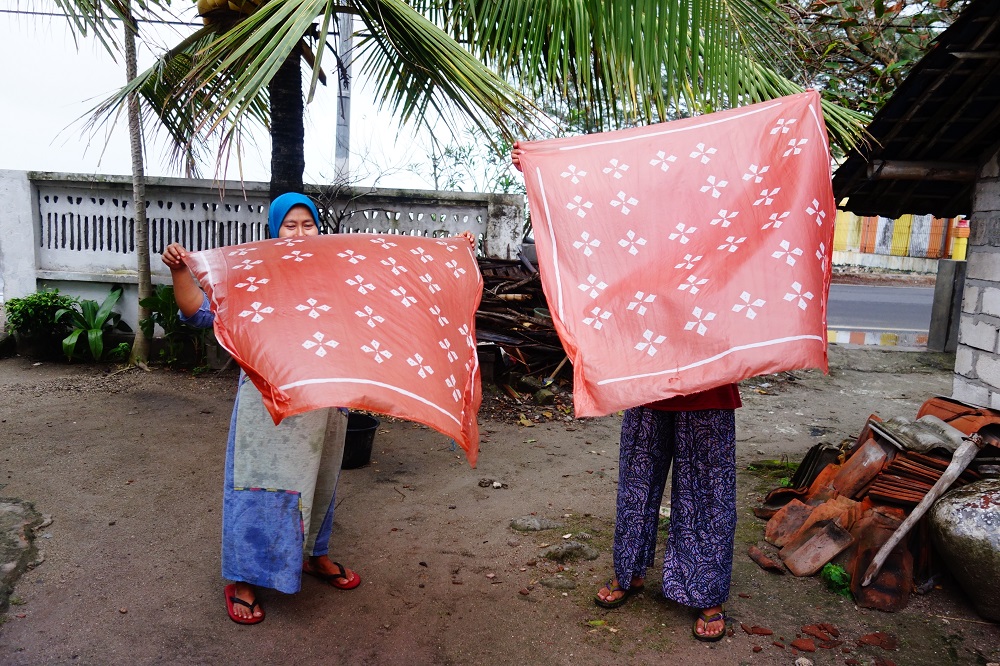 Batik artisans in Gesikharjo village, East Java are also trained to use natural dyes easily found in their area such as mahogany (Swietenia mahagoni).

On top of an additional source of income, Kopernik's Wonder Women program hopes to reduce the risk of respiratory disease among the batik artisans by helping them with access to gas stoves. By using gas stoves, the women are exposed to less smoke during the batik-making process. In the future, Kopernik hopes to support the artists in using gas stoves during both the coloring and the batik painting processes because right now, batik dying still uses wood-burning stoves, which produce a lot of smoke.
Through the Wonder Women program in East Java, Kopernik aims to support the business development of women entrepreneurs. Improving the skills of batik artisans through natural dying techniques could lead to more opportunities for partnership with organizations and other businesses in the future while conserving the traditional batik practices as well as the surrounding environment.

---
Lina Setyowati contributed to writing this article.