Q&A: Rapid Innovation in Times of COVID-19
As part of the COVID-19 Emergency Response, Kopernik has designed and produced 4,500+ face shields in Bali. The face shields have been approved by Bali's Special Task Force (Gugus Tugas) and distributed to Gugus Tugas, health facilities in Bali and beyond. We had a chat with Cokorda Gede Bagus Suryanata (Cok), our senior analyst who designed and developed the face shield. Read on to learn about how he applied our lean experimentation approach during the pandemic.

Why and how did you develop the face shields?

Cok: At the beginning of the COVID-19 pandemic, Indonesia faced a shortage of personal protective equipment (PPE) including face shields. Approximately 800 million face shields were needed in Indonesia at that time. As part of Kopernik's COVID-19 Emergency Response, our Solutions Lab team brainstormed potential solutions to address this challenge. I conducted research and came across a couple of face shield designs, however many of the available designs did not meet the necessary health and safety standards. Hence, I redesigned the face shield to meet the health and safety requirements such as providing covering from ear to ear as well as the top part of the head. The design was pretty simple so we could prototype and produce them in a short amount of time.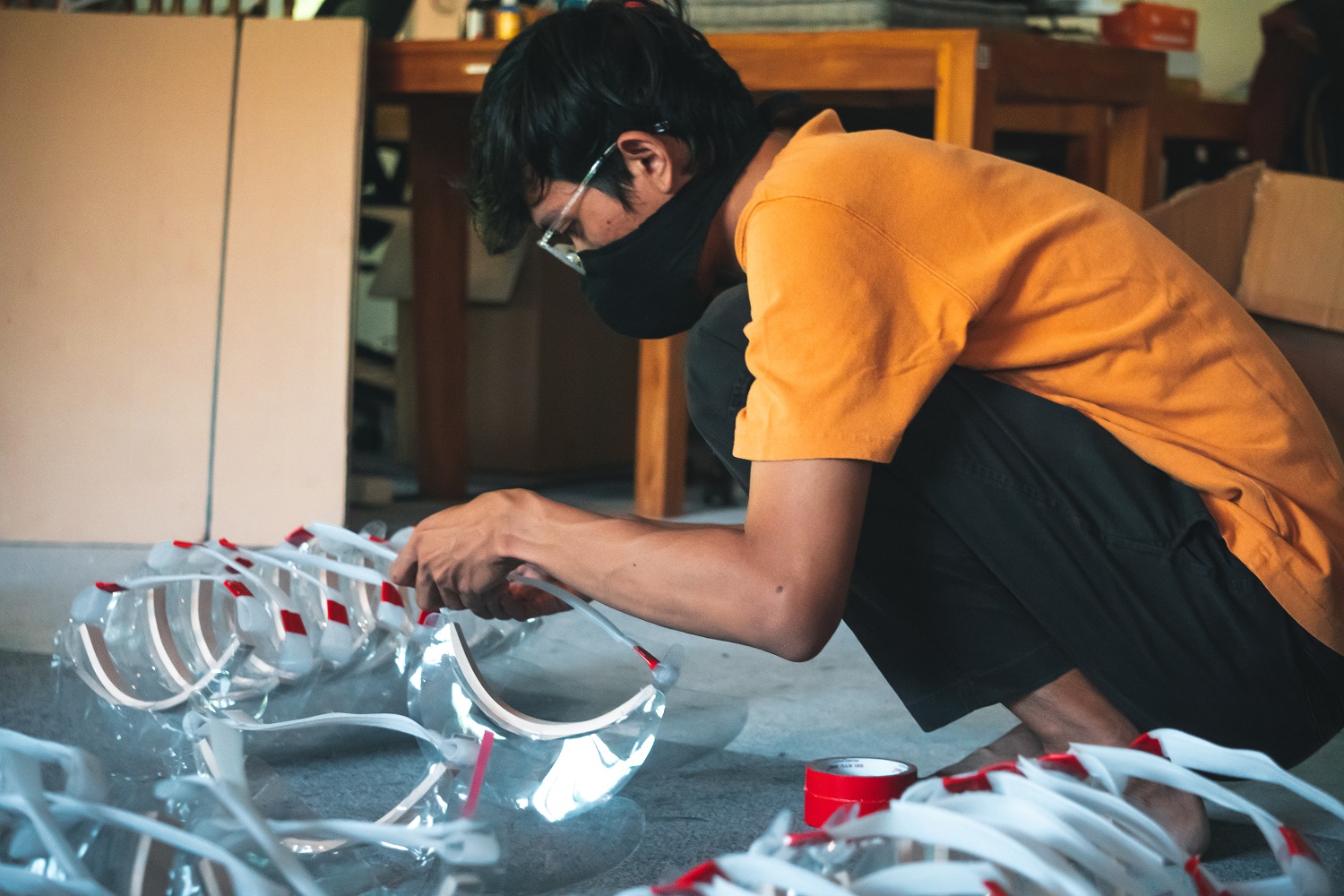 Cokorda Gede Bagus Suryanata, senior analyst at Kopernik, who designed the face shields.
(Photo credit: Manuel Bergman)
What was the process from designing to producing the face shields?
Cok: I first experimented using a 3D printer for the face shield production, however I found that the FDM (Fused Deposition Modelling) machine - a commonly available 3D printer could only produce 1 face shield structure per hour - which was too slow for the amount of face shields we needed to produce. We then tested a laser cutting method. Ideally a face shield would use PETG or polycarbonate material but these were not available in Bali, hence we decided to use PVC sheets. However, when cutting PVC sheets with a laser cutter, this process produced toxic fumes that would be harmful to the health of those conducting the cutting process. Finally, we experimented with a die cutting method - a more traditional way of cutting material, which proved to be the fastest and most cost effective method. We also chose the method considering the limited manufacturing facilities in Bali. With this method we are able to produce 3,200 pieces of face shield components in 3 days. Once the components were ready, it took approximately 4 minutes to assemble one face shield.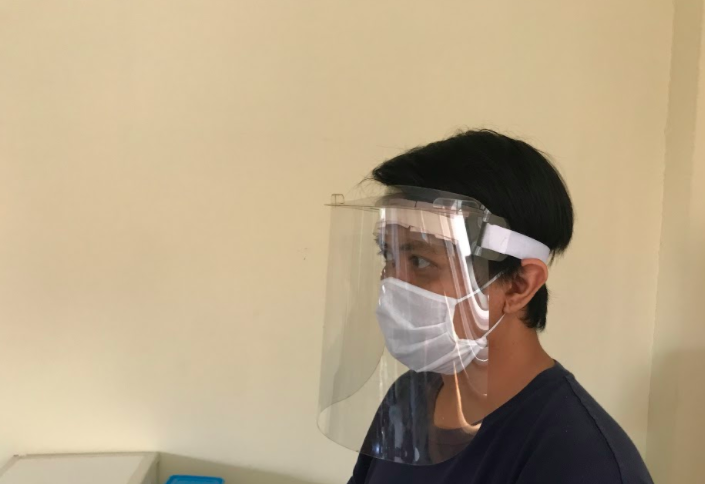 The face shield was designed by Cok from Kopernik's Solution Lab Team.
How much does it cost to produce a face shield?
Cok: We produced the face shields in bulk in order to maintain low costs. With this scenario, we could produce one face shield for only IDR 5,200. Our design also used only three components (PETG or PVC plastic, eva foam, and velcro for the strap) that can be easily sourced. It was also relatively easy to assemble the face shields using common tools such as stapler, cutter, double tape and laser/digital cutter for mass production. We have documented the process in the face shield manual and published it on Kopernik's website, so it can be easily replicated in other places.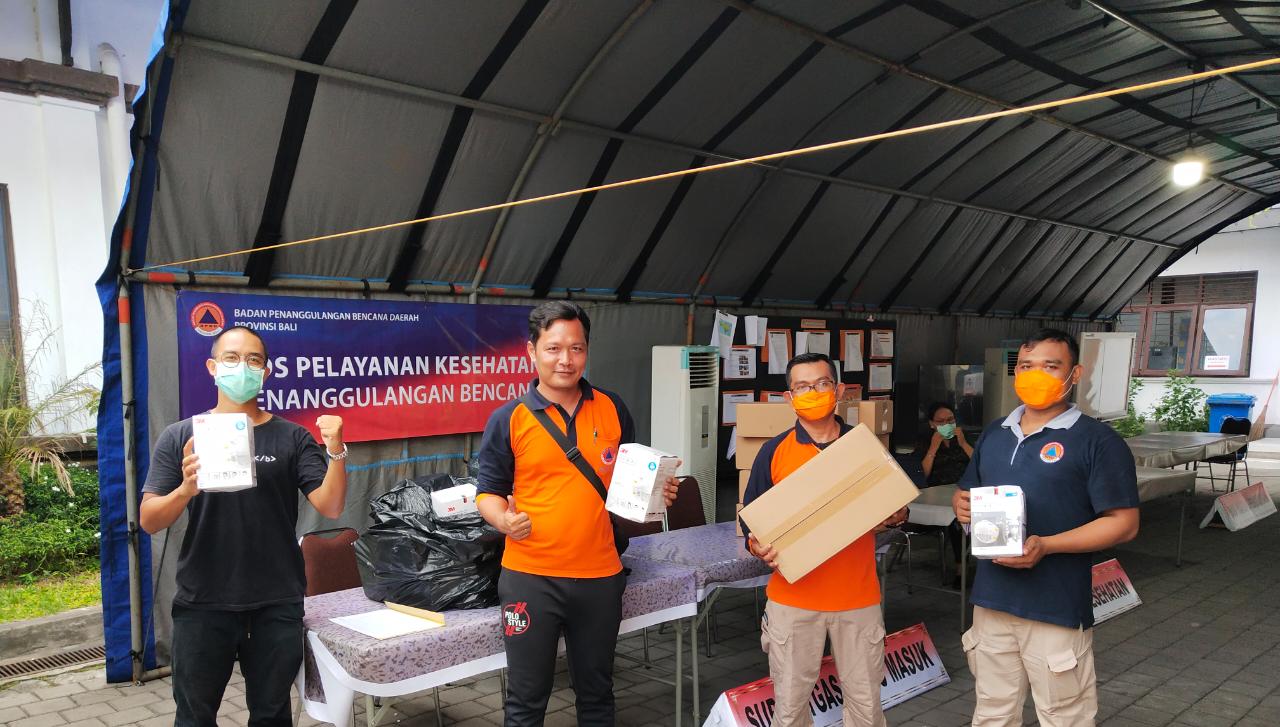 The face shields made by the Kopernik Team were distributed to Bali's Special Task Force for COVID-19 (Gugus Tugas) and health facilities in Bali and beyond.
How did you find Kopernik's lean experimentation approach in finding practical and innovative solutions for the COVID-19 emergency response?
Cok: At Kopernik, we use a lean experimentation approach to find practical and innovative solutions to address social and environmental challenges. We prototype and test a potential solution and assess its effectiveness before implementing it at a large scale. In responding to an emergency situation like the COVID-19 pandemic, we need to be creative and innovative in finding solutions to address the urgent need of the health workers and the community. I find that our lean experimentation approach has become very useful and applicable in these crisis times. Besides, I also learned that collaboration is key in facing challenging times like this. I was impressed with the team spirit at Kopernik where the whole team collaborated to produce 4,500 face shields within just a few weeks.