Forget "us" and "them". How about just "we"?

In February I went to Alor, NTT, Indonesia, to conduct initial market research for a collaborative pilot project with the World Bank's Indonesia Demand-Driven Green Initiative Sub-Program(IDDGIS). Together with Lincoln, Kopernik's Senior Project Officer, I set off for Lakwati village, a place almost impossible to find on a map -- and trust me, I tried. Our goal: to determine and test the best way to mobilise Kopernik Tech Agents in order to more effectively distribute simple technologies to the most remote areas of Indonesia.
The IDDGIS program supplied Kopernik with a team of experts in product and system design, shipping, distribution and business services. So, to start the pilot, test a few initial ideas and to establish an understanding of the market in question, we were joined by designer Noel Wilson of Catapult Design.
The team spent four days interviewing potential consumers and technology agents in order to figure out the logistics of delivering technology to this remote, mountainous location. The consensus? It's not going to be easy.
Our interviews revealed that women would walk for hours through hazardous trails with goods on their heads to sell in the market. In order to understand how we could make their lives easier and to facilitate the sale of Kopernik technologies we decided to walk a mile in their shoes.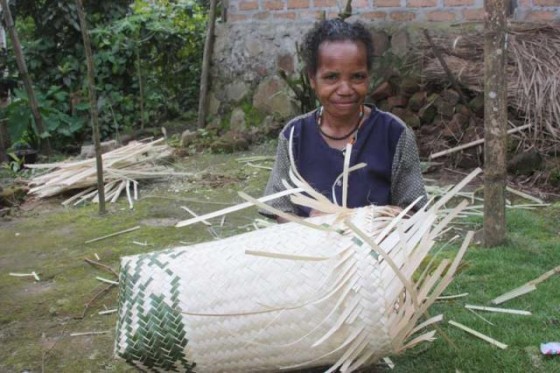 Interviewing a basket-weaver
Through discussions with our local partner and potential tech agents, we identified a neighbouring village an hour walk through the jungle. We grabbed a few Kopernik technologies and Noel brought his prototype catalogue and we hit the trail. When we arrived … alive … the excitement by the residents was electric. I got the impression that not too many visitors make it there. Our intent was to meet the village head, walk around, and maybe ask a household or two where they got their water and sourced their goods. But in the blink of an eye the entire village was upon us and Lincoln found himself giving an impromptu tech fair. It was the perfect opportunity to distribute the prototype catalogue which was received with intrigue.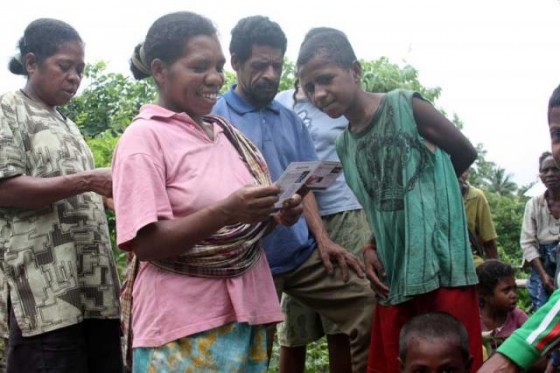 Reviewing the technology catalogue
But the best part by far was when Noel brought out the frisbee. People were shy at first but it wasn't long before the village head, village priest, Kopernik team and just about every kid in the village were laughing and playing frisbee. It was an afternoon of discovery and this moment was the most telling of them all. We weren't a development team distributing simple technologies to people in need. We were all collaborators in a value chain of supply and demand working together. There was no "us" helping "them." We were a team—Kopernik, IDDGIS, our local partner, the village—this was all reinforced by an impromptu game of frisbee.
This week Kopernik is welcoming the members of the IDDGIS team to discuss activities to date and the future of the pilot in Lakwati. Expect an update soon.