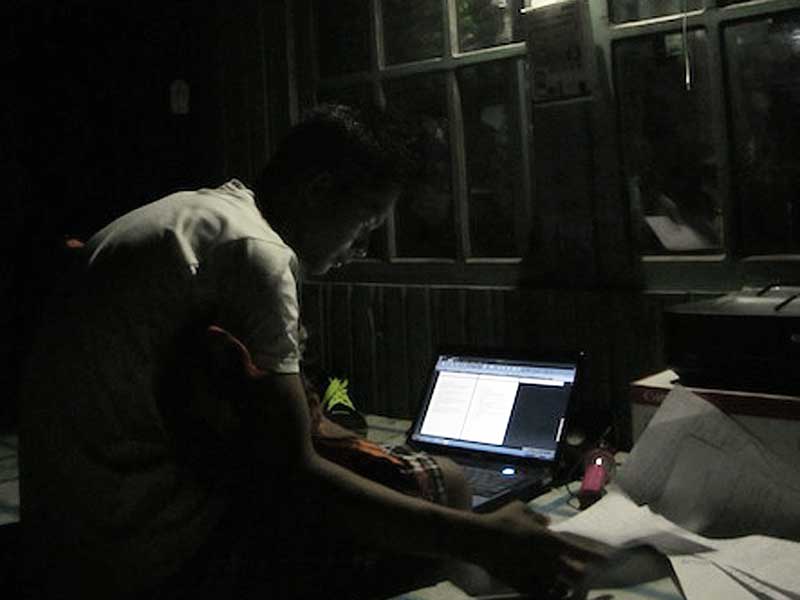 - The solar lantern accompanies Rasid doing his homework at night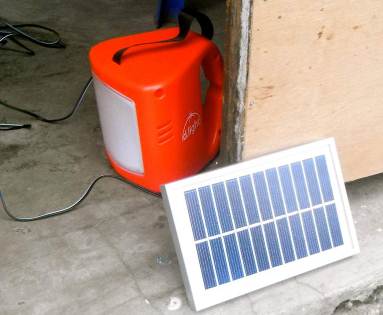 - 日中はこのように充電しています。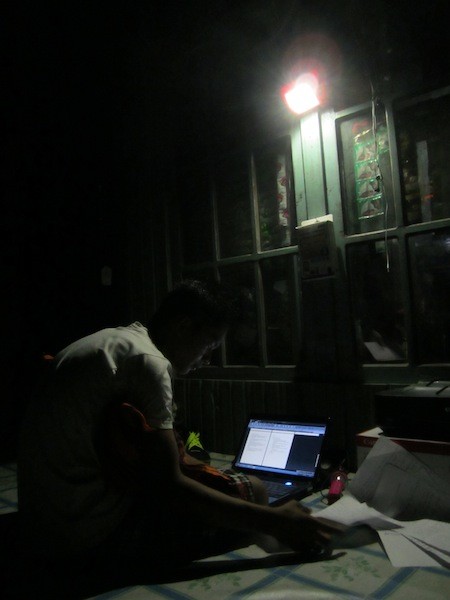 Meet Rasid. In ninth grade at Galinggang's middle school, Rasid is a very diligent student. He knows the importance of education, and always gives 110 percent to every task and homework given to him each day. He is a true embodiment of our young generation, who are determined to forge a different path to their parents. Wanting a better life, higher education, bigger dreams.
Today, Rasid needs to work on a maths group paper.
SINCE THERE ARE ONLY A FEW PEOPLE IN THE VILLAGE WHO OWN A LAPTOP, AND RASID'S FATHER IS ONE OF THEM, RASID IS OFTEN APPOINTED AS THE PERSON WHO IS RESPONSIBLE TO TYPE UP THE GROUP'S WORK.
The teacher gives them a week to finish their task. It's only their third night, but Rasid and his friends are determined to get the task done ahead of time. Every night Rasid reads one or two pages and types them on his father's laptop.
Education is one activity that we believe can be enhanced by using a solar lantern. Solar lanterns provide good, clean lighting, making it easier to read and write at night. Children do not have to worry about smoke and fumes. With the solar lantern, it is easier for them to study at night, acquiring new information or finishing homework given by their teacher.
I came to Galinggang in remote Kalimantan, Indonesia expecting that the d.light solar lanterns would be enhancing children's academic performance. It is, after all, one of the potential benefits gained from purchasing the lantern. Overall, the solar lanterns have been affecting students' studying hours. But in surprising ways.
At first, I assumed that the number of studying hours for each student would increase. However, as the interview process is progressing, there are a significant number of respondents who say that their children's studying hours at night are decreasing. Why?
WITH THE STRONG LIGHT FROM THE D.LIGHT SOLAR LANTERN, THEIR CHILDREN ARE NOW FINISHING THEIR HOMEWORK MUCH FASTER THAN BEFORE. IN OTHER WORDS, THE PARENTS BELIEVE THEIR CHILDREN ARE STUDYING MORE EFFECTIVELY WITH THE HELP OF THIS SOLAR LANTERN.
So what does this mean? Is effectiveness shown through the increase in the children's studying hours? Or is it shown through the decrease in the children's studying hours? Is a student's willingness to study the most important indicator of a positive change, or should we also consider the grades these students achieve at school? What do you think?