Turning 11 and Going Digital
2021 marks the second year of the COVID-19 pandemic, and 11 years since we established Kopernik - driven by our passion to find effective solutions to address the unmet needs of underserved communities.
We've learned so much along this journey, and one thing that has become apparent, especially during the COVID-19 situation, our reliance on digital platforms has increased dramatically; and it has also opened up new opportunities.
With many people working from home, and limitations placed on the movement and gathering of people, this new way of navigating life and work, has led us to explore how we can utilize digital technology to continue our work on finding solutions to social and environmental challenges.
At Kopernik, we have increasingly been integrating more digital initiatives in our work, which include:
1. Sharing our experiments results through the Solutions Catalog
Since 2016, we have been conducting "lean experiments" to find solutions to target specific issues or unmet needs and test potential solutions that can address them, and contribute to the achievement of the SDGs.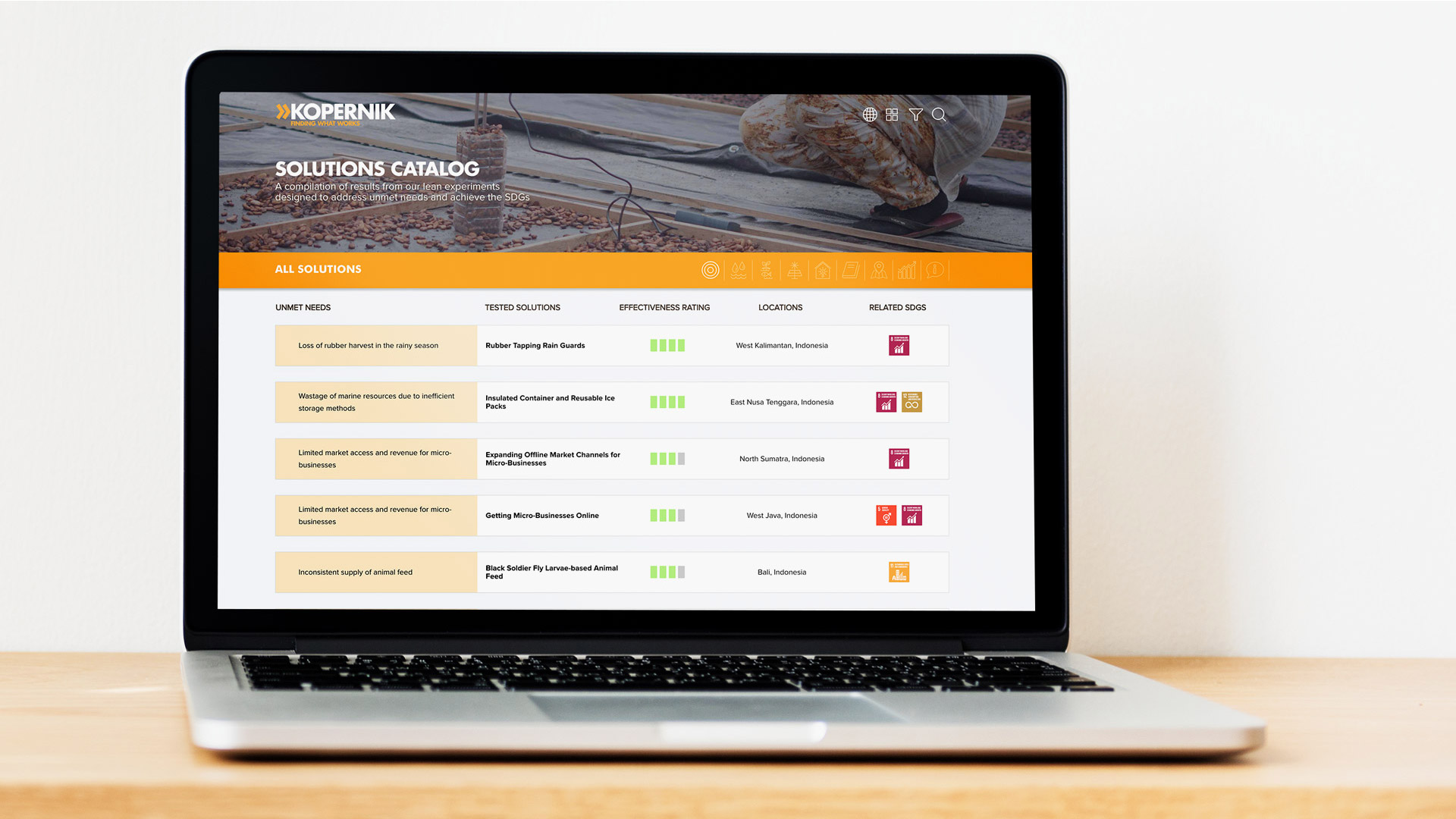 Kopernik's Solutions Catalog was launched last year as a reference for others working on finding solutions to social and environmental challenges.

Last year, we launched the Solutions Catalog - an online platform to share our lean experiment results and learnings as a reference for organizations, agencies, companies, and programs interested in addressing the unmet social and environmental challenges faced by underserved people.
We strongly believe that complex challenges can only be solved by collective action and collaboration. Leveraging online platforms to share our results - both the successes, and the failures, can reach a wider audience, so that promising solutions can be adopted by other actors, to solve social and environmental challenges at a bigger scale.
2. Virtual Reality (VR) videos through the #VRforSDGs Initiative
To solve complex development issues, we believe it is critical to understand problems and challenges to the best extent possible, so that those who are in a position to solve them, can find the most appropriate and effective solutions.
Because COVID-19 has restricted movement and travel, this will likely have an impact on the progress of designing and developing products and services that could address social and development challenges. We are utilising immersive 360-degree/Virtual Reality (VR) videos to provide viewers with an immersive experience - without having to be in a particular location - to better understand social and environmental challenges in a way that conventional images or videos cannot.
Last year, we developed and delivered immersive learning modules to bridge the distance between the University of Melbourne and Universitas Gadjah Mada in Yogyakarta, Indonesia. Through this collaboration, we ensured that social development studies didn't stop despite the travel disruption caused by the global pandemic.
The development of immersive learning materials and establishment of new partnerships also provided us with an opportunity to share our work with a broader audience while providing creative learning opportunities for students at various levels — from high school to universities as well as professional development in the workplace.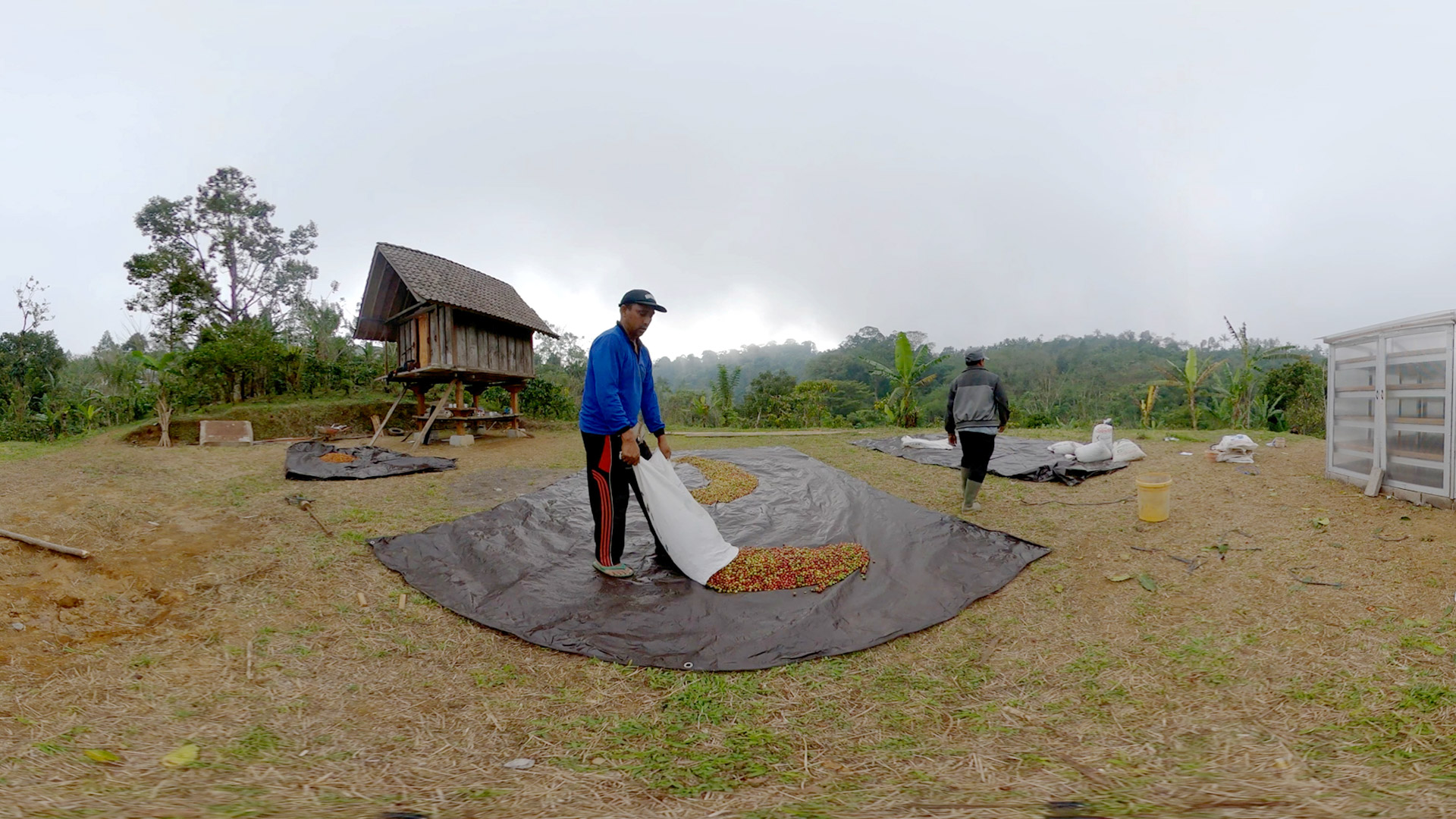 VR videos have the potential to convey messages and give the opportunity for viewers to experience social and environmental challenges without having to be in a particular location.

This year, in partnership with RICOH, we are developing a "VR for SDGs" platform with 360-degree/VR videos of challenges commonly faced by underserved communities in developing countries. The new site is intended to be a go-to-platform for companies and organisations working to address the unmet needs of underserved communities to understand development issues as best they can in the current context of limited travel, so they can continue to develop solutions to social and environmental issues and accelerate the achievement of SDGs.

3. Supporting women entrepreneurs to tap into online markets

Since 2010, we have been supporting women entrepreneurs to improve their businesses through the Wonder Women program. Despite the overall negative economic growth during COVID-19, Rakuten Insight reported an increase in online purchases by 55% across Indonesia.
77% of the women entrepreneurs who are part of the Wonder Women Program experienced positive growth in their businesses in 2020. This was because they were able to pivot their businesses and adapt to the COVID-19 situation by moving their businesses online.
Supporting women-led micro, small and medium enterprises (MSMEs) to tap into online markets presents a very tangible means for women entrepreneurs to sustain and grow their businesses during these challenging times. We partnered with Visa Indonesia to support women-led micro-enterprises affected by the economic impact of COVID-19 in Bali, by providing capacity development support, including online marketing to strengthen their business sustainability and resilience.
As part of a two-year partnership with MAMPU, we supported women entrepreneurs in West Java to tap into online markets which led to an increase in their sales.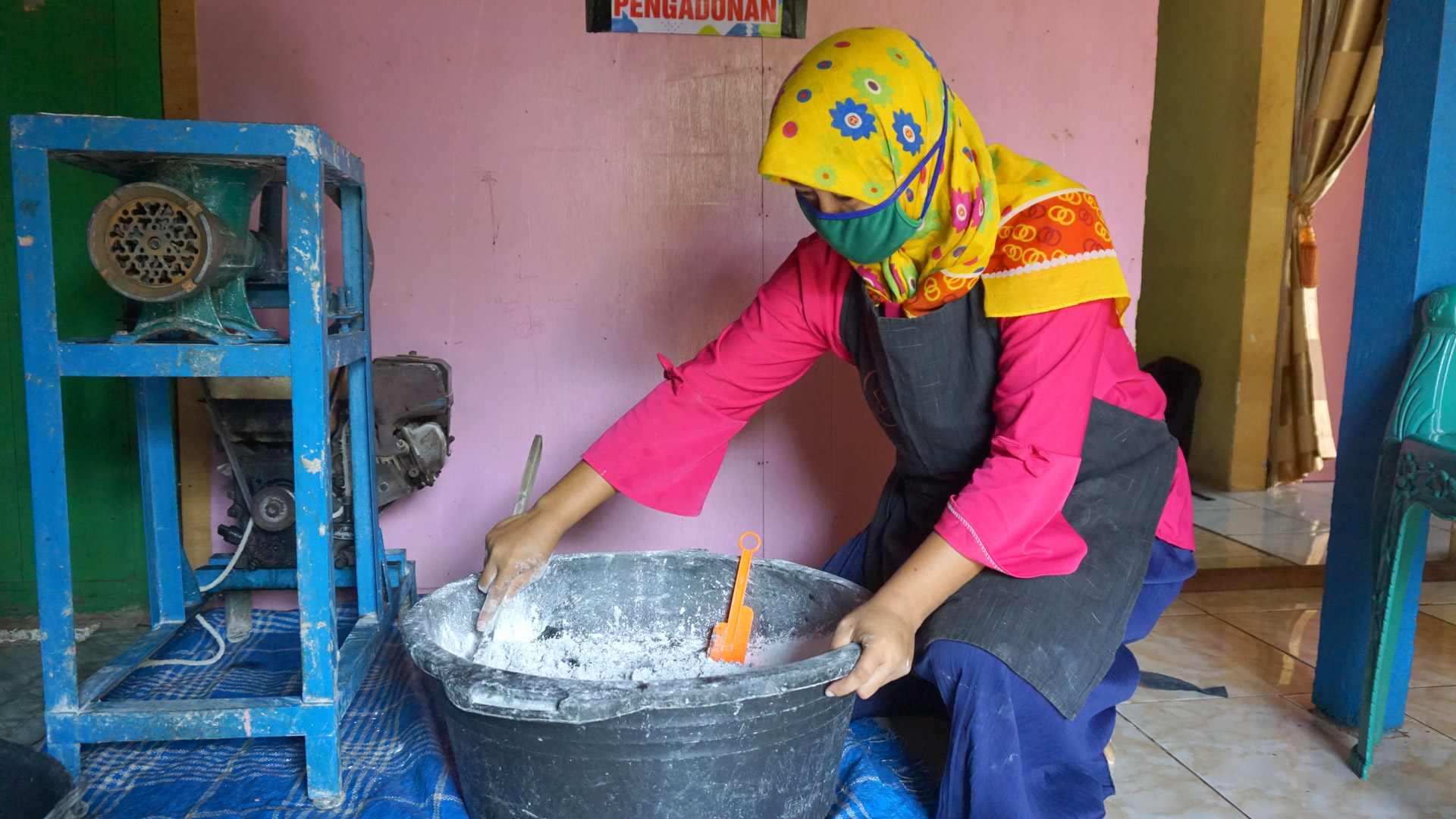 Sri Kayatin, one of the Wonder Women program participants, has expanded her business by tapping into online markets.

4. Continuing advocacy for environmental issues through Pulau Plastik

COVID-19 has also moved advocacy efforts for social and environmental issues online. The Pulau Plastik Initiative - our campaign to tackle the problem of single-use plastic in Bali and beyond has shifted from face-to-face to digital engagement. Pulau Plastik leverages popular culture and includes social media campaigns, short videos, and a feature-length documentary to increase awareness about the hazards of single-use plastic, to change people's behavior, and to advocate for change.
In 2020, we had to pause our offline community screenings and initiated a #watchfromhome campaign that as of February 2021, has reached more than 3,600 people, in Indonesia and abroad. Through this campaign, we invite people to watch the Pulau Plastik series and educate themselves about the single-use plastic issues from home.
This year, in partnership with Visinema and Akarumput, we are launching the Pulau Plastik feature-length documentary.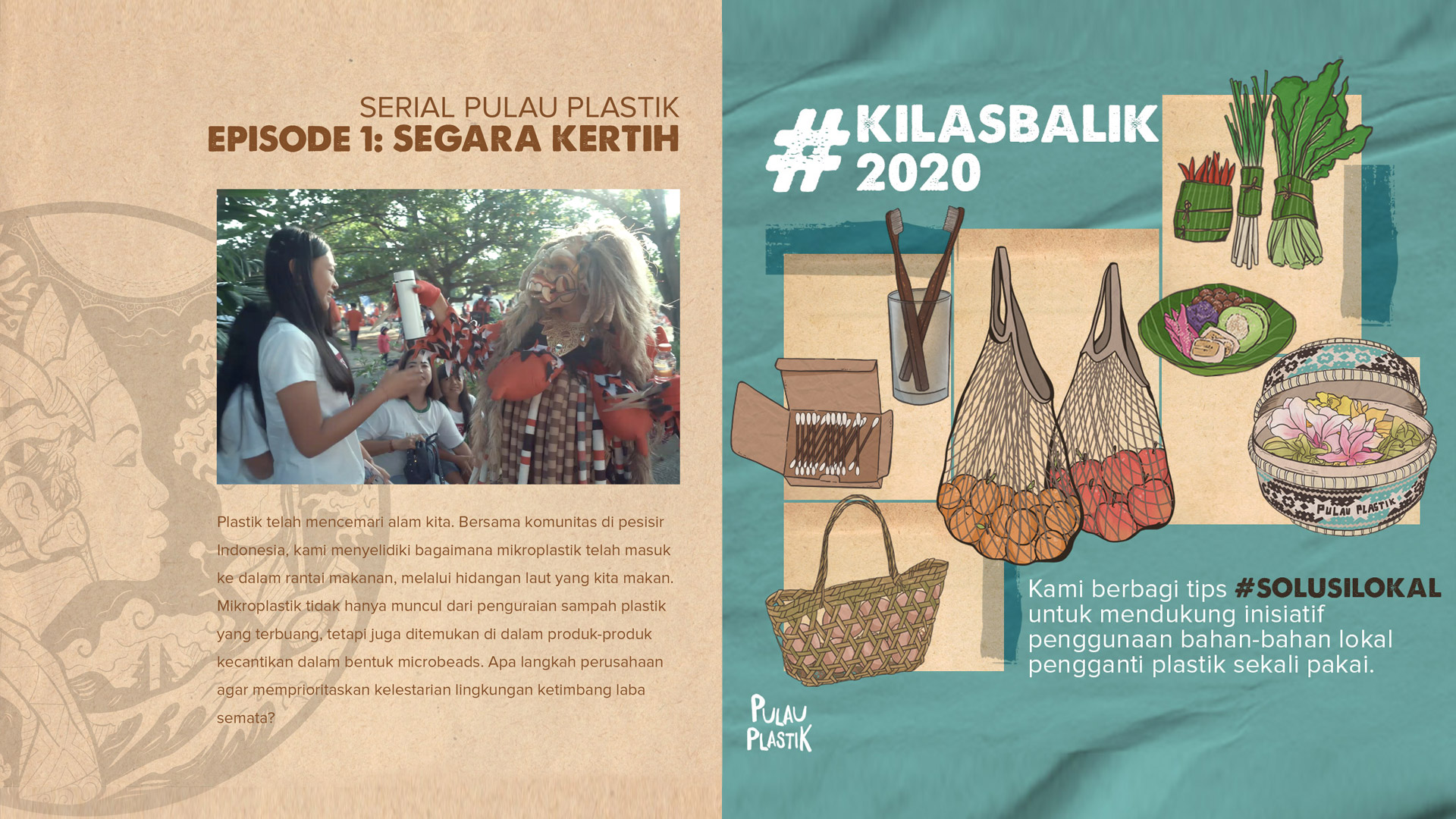 In 2020, we initiated the Pulau Plastik #watchfromhome campaign.

With social and environmental challenges being amplified during the pandemic, digital technologies are one of the ways in which we can continue our efforts to address pressing needs and support underserved communities.