Turning a Simple Homemade Snack Into a Supermarket Favorite
Liniswati wakes up before dawn every day to prepare her sales: a traditional deep-fried savoury snack called peyek crackers which are made from flour and peanuts. From 1 A.M to 8 A.M, you can find her busy mixing, frying, packing, and delivering the snacks to various sellers. This has been her routine for the past ten years.
The Bojonegoro, East Java native started her peyek cracker business, Madju Roso, to contribute additional income to the family. Liniswati's husband is a farmer who tends a small paddy field that only brings harvest twice a year - barely enough to cover the family's daily needs. Because of this, Liniswati's peyek cracker business has become the main source of income for the family.
Even though Liniswati has been running her business for years, she has faced many stumbling blocks in expanding her business due to a lack of capital and information about potential new markets. In the first few years of business, she focused on selling peyek crackers at IDR 800 – 900 (US$0.056-0.063) per package in traditional markets, small food stalls and stores nearby. At the time, her peyek crackers were sold with simple plastic packaging with no label, and no health permit.
When she joined Kopernik's Wonder Women program two years ago, she wanted to find out how she can apply for a health permit and improve her packaging, hoping that those changes would help expand her business. "I dreamed of selling (peyek crackers) in modern stores but I didn't know where to start. Before this Kopernik initiative, I didn't participate in any programs or trainings," she said.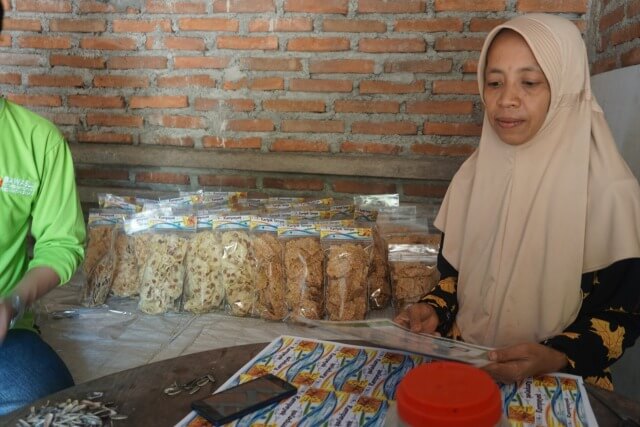 Since joining the Wonder Women program, Liniswati has participated in a number of workshops in business planning, marketing, gender in leadership, and bookkeeping. Kopernik team members in Bojonegoro have also supported her in applying for a health permit as well as to improve the packaging and marketing of her products. Liniswati's Madju Roso products now have a wider variety of flavors with more attractive packaging, increasing the added value of the common homemade snack by nearly ten-fold. Previously she sold peyek crackers at IDR 800 per package in traditional markets, now she can sell them between IDR 8,000 – 10,000 (US$0.56-0.70) per package on the shelves of modern stores in Bojonegoro.
Liniswati's hard work and tenacity to grow her peyek cracker business – from a simple homemade snack to a favorite in modern stores – has inspired many other women in Bojonegoro who followed her in joining the Wonder Women program. Her story is a reminder to us that the impact of empowering women entrepreneurs in rural areas of Indonesia goes beyond the individual woman, reaching her family and even the greater community.