What It Takes to Replicate: Lessons Learned from a Solar Dryer Experiment in Bali
Ineffective crop drying methods are one of the major challenges faced by smallholder farmers in Indonesia. Many farmers sell their crops unprocessed, providing them with very little income. While some already practice the process of drying, the common method is to lay the crops on the ground, which puts the crops at risk of spoilage from rain or contamination from dirt or animals.
Since our Unmet Needs research study in 2016, Kopernik has been experimenting with a number of solar dryer designs for various commodities. We have designed, built and tested solar dryers for cacao, copra and cashews in Bali and Adonara Island and are currently testing two other solar dryers for cacao and seaweed in Sintang and Lembata. Our ultimate goal is for farmers to see the solar dryer's benefit themselves, replicating and adapting the design for their own use.
We were therefore naturally very interested to learn about a farmer's group in Bali that has been working with Covestro, a polymer supplier that also develops solar dryers.

In September, Kopernik visited a solar dryer in Belok village, Badung district, Bali built by Covestro for Sari Sedana, a coffee farmer group the Belok village. The structure was built in 2018 and Covestro had invited Kopernik to provide our feedback on their solar dryer.
Designed for one-tonne capacity, Covestro's solar dryer for Sari Sedana, is made from polycarbonate and uses exhaust fans to allow continuous airflow and reduce humidity. During the visit, we met with Sarini, the vice-chairman of Sari Sedana, and learn from her experience. She said that the solar dryer built by Covestro had enhanced the drying process tremendously, however the original capacity was not enough to dry all of their produce. She therefore took the initiative to build another solar dryer, meeting the capacity she requires and tailoring the design to fulfill her needs and available resources.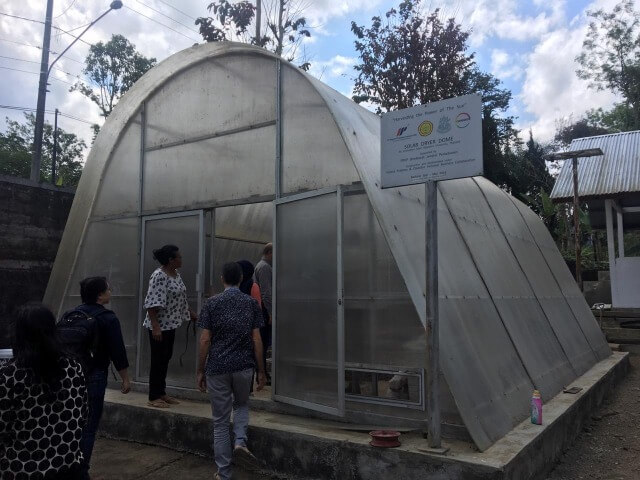 Instead of an exhaust system and thick polycarbonate, Sarini's solar dryer has open ventilation and uses a thin polyethylene sheet. Although the design and materials were different from the original design, the concept was the same: using an enclosed space to accelerate the drying time of coffee beans, protect the beans from contamination and rain, and in turn increasing the quality of the beans.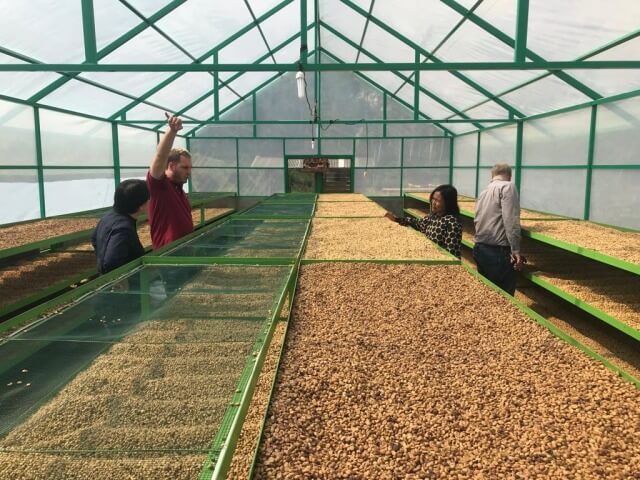 Sarini's initiative reminds us of how the most impactful innovation happens at the hands of the communities themselves. Smallholder farmers, such as Sarini, are acutely aware of their needs and resources and the role of organizations such as Kopernik and Covestro can simply be to support and facilitate innovation to serve their needs.

We are excited to take this lesson forward in our ongoing work to improve solar dryer designs. In fact, we are now working closely with a seaweed farmers group in Lembata island, NTT to develop another simpler solar dryer design with more accessible materials such as wood and polyethylene (PE) sheeting that suits their needs and resources. We have had immediate success, with our first design being replicated twice by the farmers within a week of it being built. Stay tuned to hear more about Kopernik's work with solar dryers!