Kopernik Partners with MAMPU to Support Women Empowerment Organizations
Kopernik is partnering with MAMPU (Australia-Indonesia Partnership for Gender Equality and Women's Empowerment), a partnership between the Australian Government (Department of Foreign Affairs and Trade) and the Government of Indonesia (Indonesia's National Development Planning Agency), to support women in low income communities in accessing essential services, such as social protection and other government programs. The collaboration is part of Kopernik's and MAMPU's support towards Indonesia's efforts to achieve Sustainable Development Goals (SDG), Goal 5: Gender Equality.
MAMPU currently works with more than 100 civil society organizations at the national and regional level. The MAMPU partners are active in advocating a spectrum of gender equality and women's empowerment issues in Indonesia. The program focuses on five sectors: women's access to social protection, employment conditions and workplace, women's overseas labor migration, women's health and nutrition and reducing violence against women. MAMPU's partners include PEKKA, Institut KAPAL Perempuan, Koalisi Perempuan Indonesia, BITRA, Trade Union Rights Centre, Yasanti, Migrant CARE, PERMAMPU, Aisyiyah, YKP, Forum Pengada Layanan (FPL), BaKTI and Komnas Perempuan. Since 2013, the program has supported more than 32,000 women across 27 provinces in Indonesia. In support of gender equality and women's empowerment efforts in Indonesia, MAMPU set out to identify assistance needed by their partners that would maintain their continuity beyond the scope of 2020 funding. Following a rigorous process, MAMPU partners have established various long-term sustainability pathways. MAMPU has engaged Kopernik to support partners in testing the adoption of these plans, in search of promising solutions to improve the partners' services.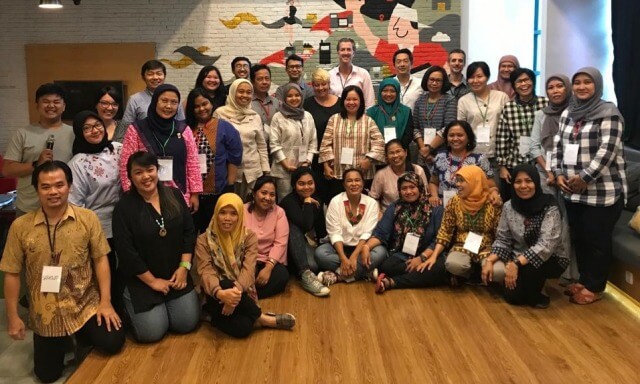 Kopernik held a joint workshop with Saraswati to assess MAMPU Partners and support them in delivering support for women.

The project started in October 2018 and is divided into two phases. The first phase of the project focused on supporting MAMPU partners in developing capacity on financial management and network expansion. In phase one, Kopernik held a joint workshop with Saraswati to assess the alignment of MAMPU Partners, and how our expertise can complement their needs.
The initiative is currently in its second phase, which will run until November 2019, and Kopernik will focus on supporting the MAMPU partners in testing various interventions related to financial systems and networking needs. An initial gap analysis is being conducted, and will then be translated into tailored interventions based on the challenges and opportunities identified.
In the spirit of finding what works, Kopernik aims to assist partners in tapping into their resources to build their capacity to experiment with potential solutions that are tailored to their needs. This project seeks to further improve the valuable impact MAMPU Partners have had in over the past years and further contribute to the improvement of the lives of marginalized communities they work with.