Kenyan University and Japanese Company Collaborate to Improve Road Construction
In Eldoret, Kenya, Dr. Rose and the Moi University team are waiting for the video call to connect with Shiyo-san and her team at SPEC Co.Ltd, a Japanese company that specialises in renewable energy, analytical chemistry, phytochemicals, industrial engineering, material science, and textile engineering.The two teams have been working together for the past year on a University-Industry Partnership program run by the World Bank and Kopernik.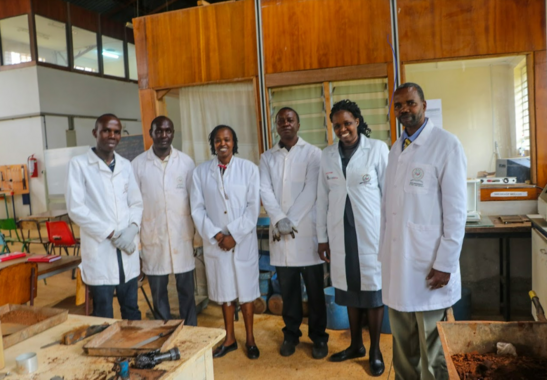 Dr Rose (second from the right) and her team of researchers from Moi University's Center of Excellence in PTRE
The program is building partnerships between African universities and Japanese companies to facilitate innovation and commercialization of research. Dr. Rose is leading a team of researchers at Moi University's Center of Excellence in Phytochemicals, Textile & Renewable Energy (PTRE), while Shiyo-san is part of the team at SPEC Co.Ltd that has developed a soil hardener agent called STEIN which can be mixed with soil to produce a hard enough soil for the construction of roads, housing materials, and irrigation infrastructure systems.
The idea of using STEIN in Kenya was first discussed during an online matchmaking event organized by the World Bank and Kopernik, during which representatives from Moi University and SPEC Co.Ltd met for the first time. Dr. Rose saw the potential of using STEIN to improve the quality of roads in Kenya, while Shiyo-san saw an opportunity to expand the market for STEIN in Kenya, where they had started to introduce their technology, but were struggling to scale.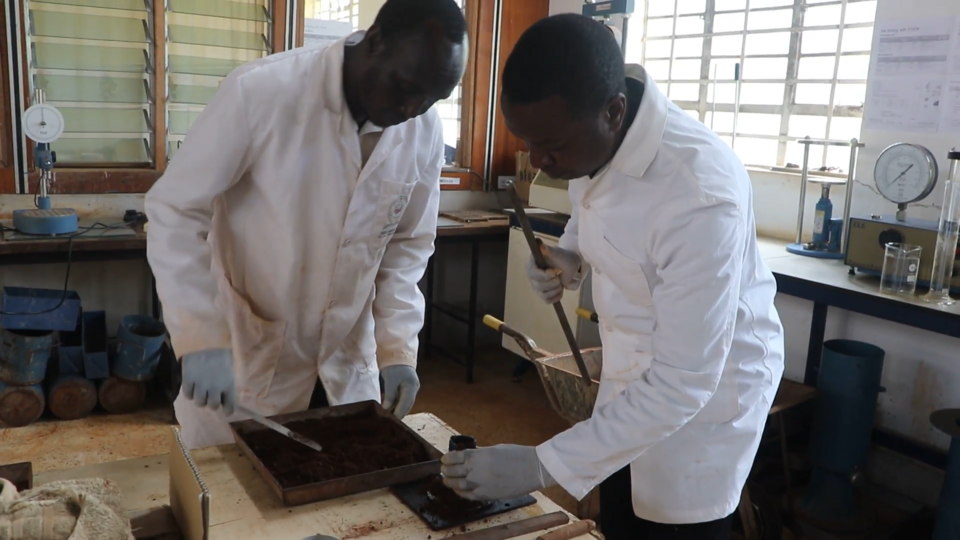 Mixing STEIN with one of the soil collected from a location in Kenya
The first step in adapting STEIN to local soil conditions in Kenya was to conduct initial prototype testing in Moi University's lab, followed by developing a plan for the adaptation of the technology, identifying target locations and use-cases for the technology. The road to success was not without its challenges, as SPEC found that the black-cotton soil, characteristic of certain areas in Kenya, was difficult to work with. They experimented with different soils and various mixtures until reaching the appropriate combination. Today, STEIN is being considered for use in various projects throughout Kenya, with a target to reduce the cost of pavement roads by 40-60% as compared to asphalt roads. This would be a major reduction and if successful would bring huge benefits, especially in rural areas of Kenya that lack adequate road infrastructure.

For Dr. Rose and Shiyo-san, the success of their partnership was as a result of their mutual understanding and productive communication. "Everything is possible if two companies are able to communicate with one another productively," Dr. Rose says.
Shiyo-san agrees, and emphasizes the importance of collaborating with a local partner to adapt technology to local conditions. "Soil is very local," the SPEC team says. "You need to work with a local partner - in this case Moi University - to understand the local context. Our partnership could provide an important contribution to Kenya, and other parts of the world."