Breaking Barriers: The Story of Emi – A Woman Cacao Farmer in Papua
Cacao farming is traditionally dominated by male farmers, and Papua is no exception. Yomida Yaru, known as Emi, is a 27-year-old woman from Sabeyap village. Emi stands out as the sole woman member among 68 farmers in the Srukumani farmers group, where she has earned the position of group treasurer.
Emi's journey into the world of cacao began at the age of 18, learning the ropes of planting from her father, who was an experienced cacao farmer. Her primary role initially involved assisting him with cacao fermentation. As she approached the end of her high school years, Emi's parents had hoped for her to pursue higher education at university. However, life took an unexpected turn when her father passed away, leaving Emi to face a difficult decision. With her dreams of attending university set aside, she bravely chose to stand by her family. Alongside her brother, she continued the essential work of cacao fermentation, while working alongside her mother to cultivate chili and vegetables to make ends meet. "I embraced the roles that were once seen as men's work. I hope this could inspire more women in my village to be more involved in the cacao industry," said Emi.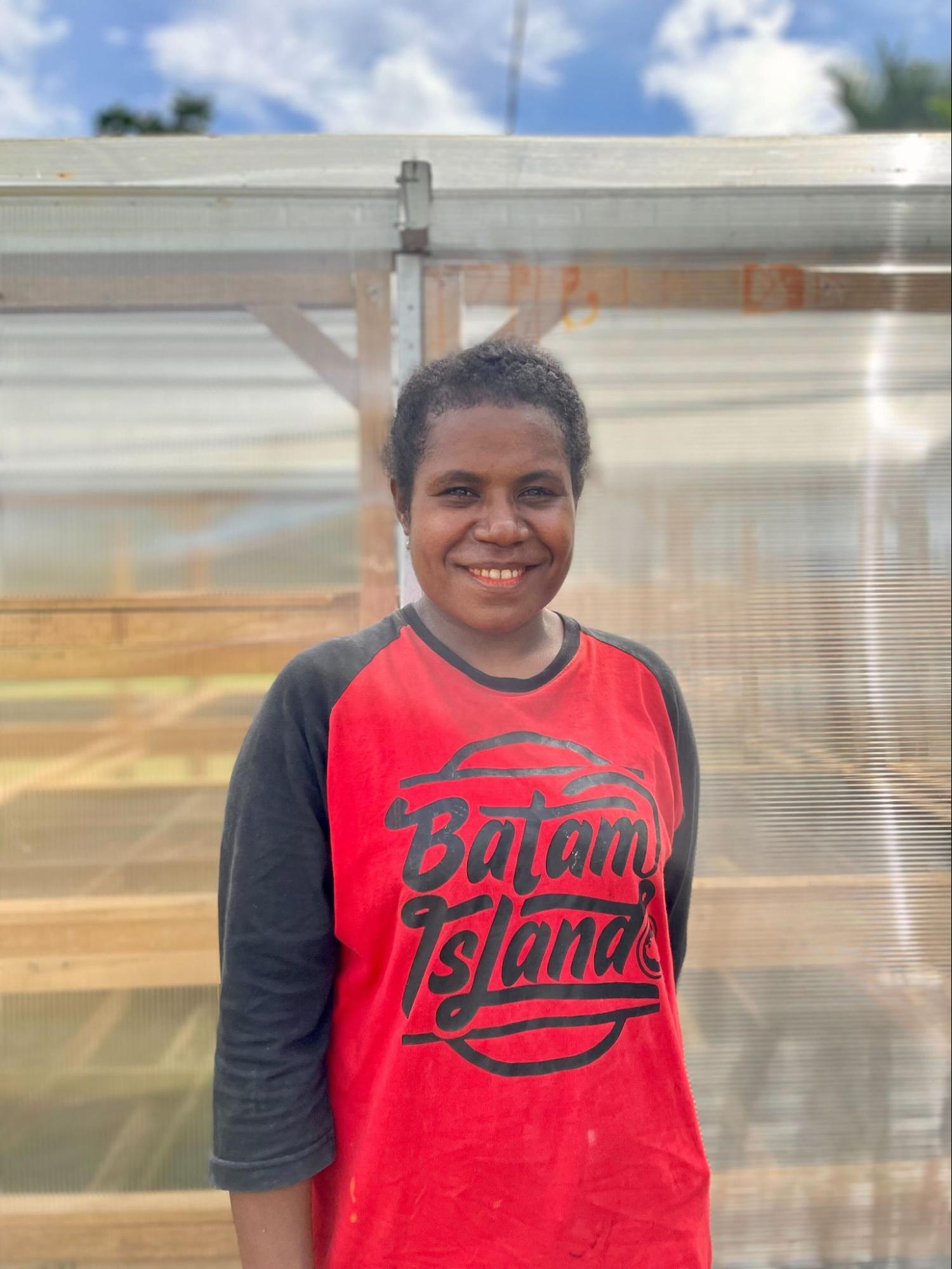 Emi strives to empower women and youth in her village to become more involved in the cacao industry

As part of an initiative to uplift the livelihoods of smallholder cacao farmers and fishers in Papua, funded by the Ministry of Foreign Affairs (MOFA) Japan, Emi was selected as one of the SIHUB (Smallholder Innovation Hub) staff in Sabeyap village. SIHUB serves as a multipurpose facility that can be utilized as a training center, meeting venue, and shared storage facility for the local community.
Emi actively participated in various training sessions organized through the project, where she acquired new skills that enabled her to manage the hub and maintain accurate records. These training sessions have proven to be valuable for her role as a SIHUB staff member. Her responsibilities include overseeing the hub's operations, assisting fellow farmers in borrowing equipment on a daily basis, and ensuring meticulous record-keeping for all activities.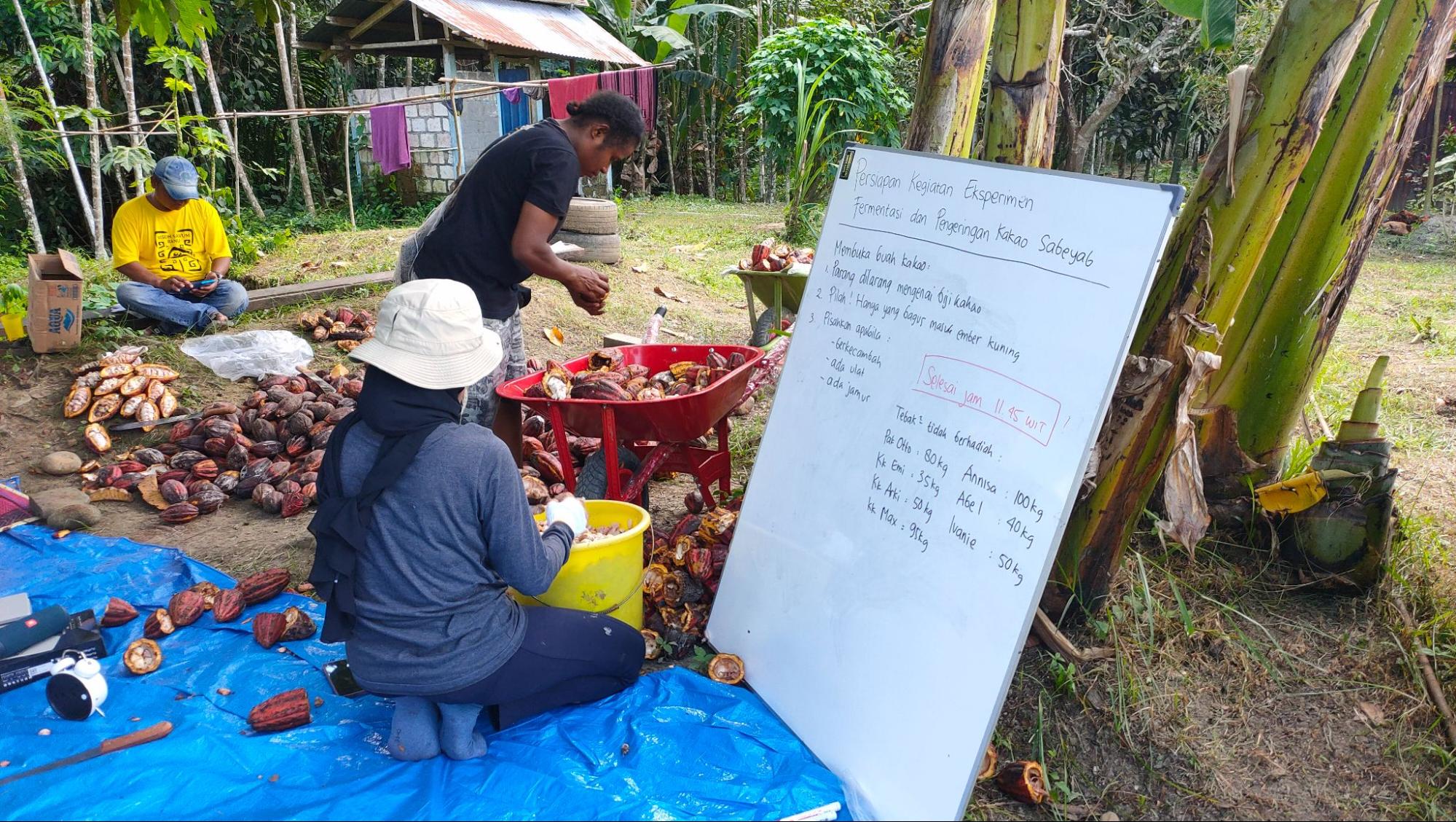 Emi is helping Kopernik staff prepare for a cacao experiment

Furthermore, Emi participated in training sessions focused on Good Agricultural Practices (GAP), which held special significance for her as a cacao farmer. This training highlighted sustainable farming practices, offering insights into proper cultivation and post-harvest methods, efficient management of diseases and pests, as well as innovative simple technologies. By integrating these teachings, Emi, along with her fellow farmers, aspire to elevate the quality of their village's cacao beans, increase productivity, and explore better market opportunities.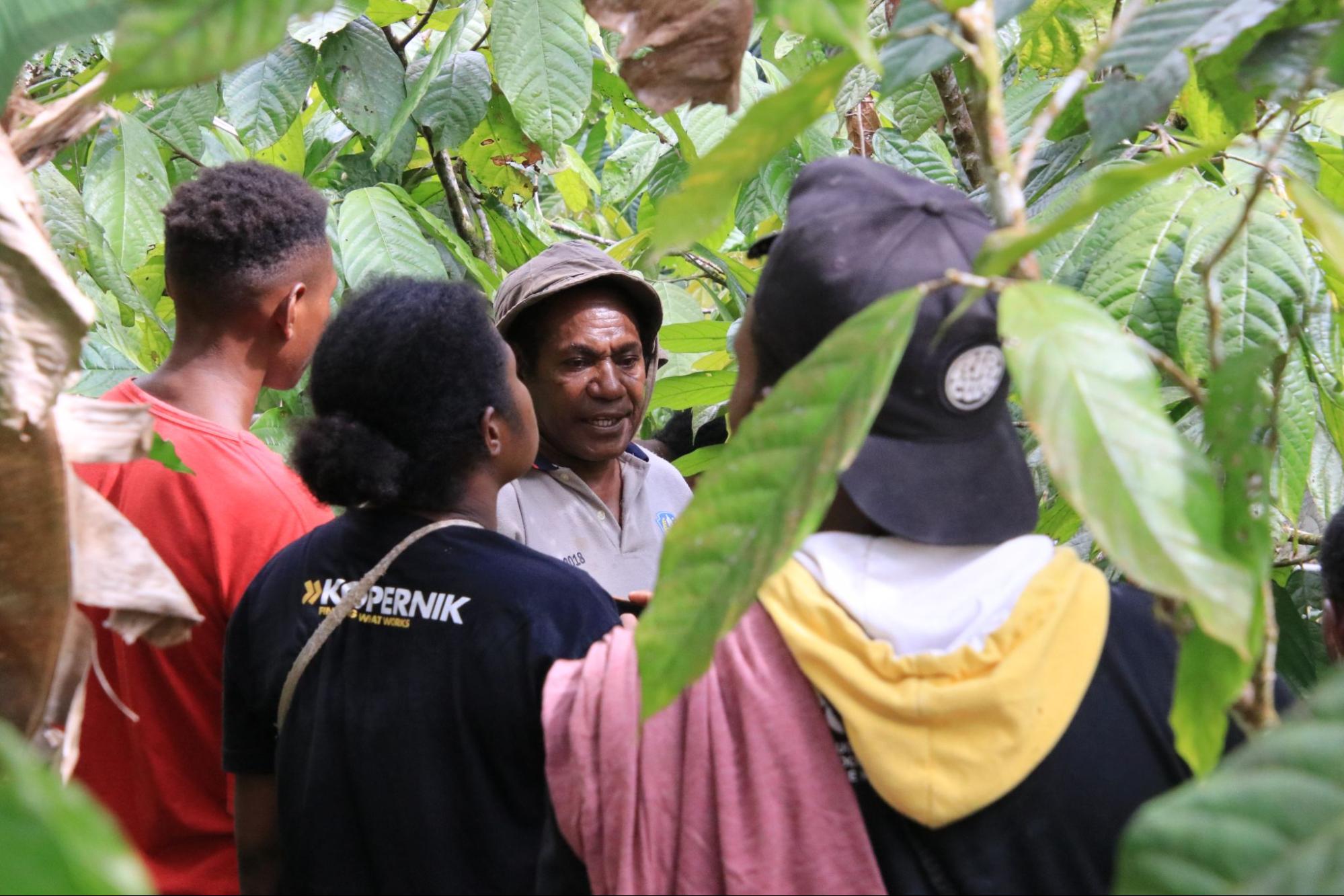 Good Agricultural Practices (GAP) training equips farmers with techniques to optimize crop yields and adapt to the changing climate

During the training, Emi came to realize the untapped potential of the cacao industry in her village, which could offer an extra income stream through derivative products like cocoa butter, cocoa paste, and cocoa powder — essential ingredients for various industries. Intrigued by this possibility, she resolved to delve deeper into the production of these derivatives. She envisions this opportunity as not just an extra income source, but also a game-changer, especially for the women and youth in her village. By embracing value-added processing, Emi is optimistic that her community could secure better prices for their products compared to solely selling raw beans.
"I'm determined to help my community, especially women and youth, realize the untapped potential of the cacao industry in my village so that we can thrive together," said Emi confidently.
Emi eagerly anticipates her participation in the upcoming cacao product development training organized by Kopernik this year, which is part of the support for cacao farmers and the community in Sabeyap village.
Emi's journey represents a change in the tide. Her commitment to continuous learning, dedication to both the SIHUB and her cacao farm, and determination to empower fellow women and youth in her village, serve as a source of inspiration, showcasing the transformative power of dedication and community empowerment.
This project is made possible through support from the Ministry of Foreign Affairs (MOFA) Japan.