Producing Reusable Pads during COVID-19
COVID-19 has impacted tourism the most, out of all economic sectors. Labuan Bajo, one of the most popular travel destinations in Indonesia is suffering economically from a decrease in tourist arrivals and many people whose livelihoods depend on tourism-related businesses are experiencing a significant decrease in their incomes. The COVID-19 situation has also had an impact on Kopernik's plans for the expansion of our Perfect Fit project in Labuan Bajo, especially in terms of the production capacity of reusable menstrual pads.
In early March, we established a production hub in Labuan Bajo for the reusable pads in partnership with SIMAVI and with the support of the Dutch Embassy in Jakarta. Previously the pads were produced in the homes of tailors in Ruteng, East Nusa Tenggara. By establishing a production hub with sewing machines and all necessary tools, we wanted to improve the quality and increase production capacity.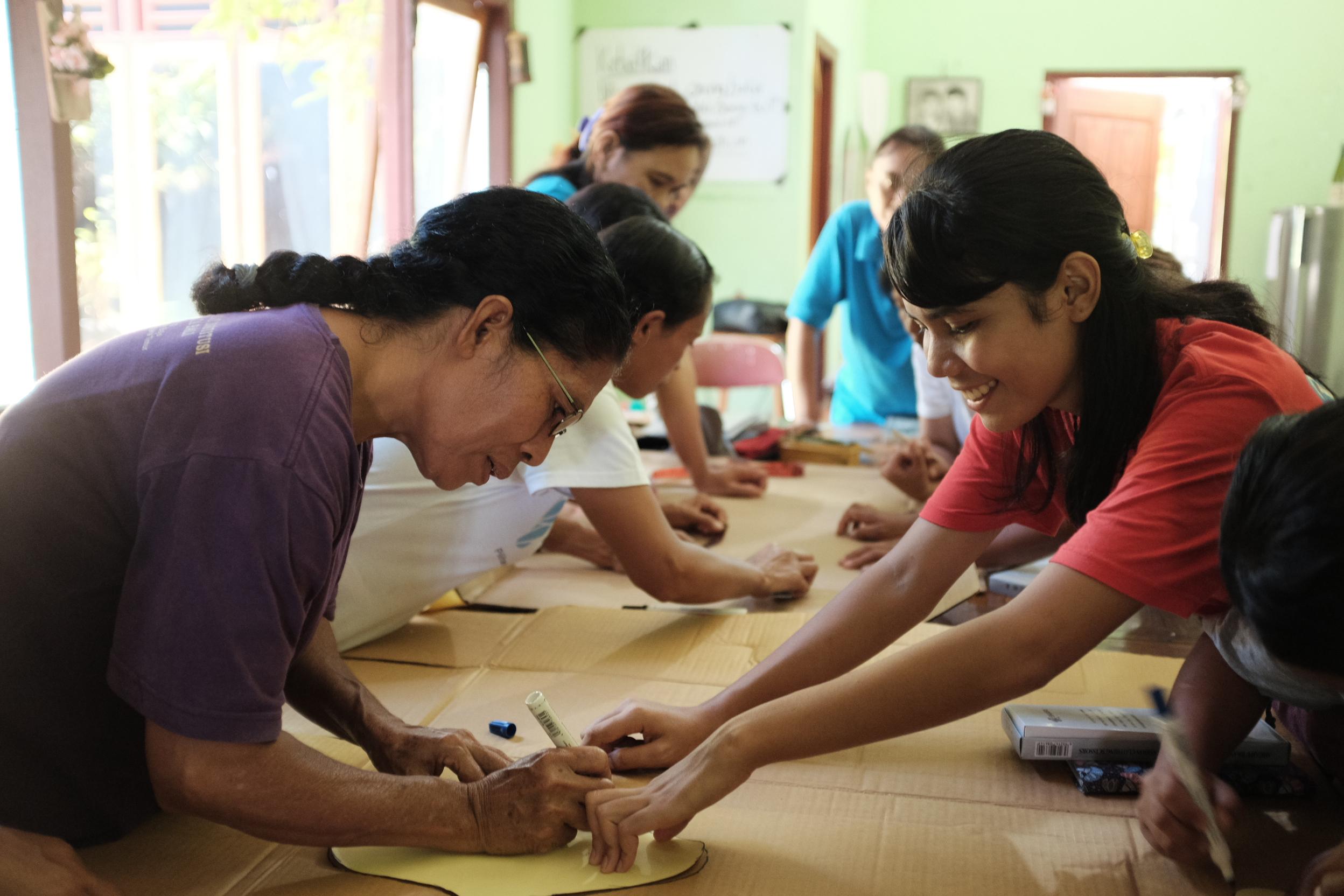 The Perfect Fit tailors training in Labuan Bajo before the work from home policy was implemented.

Following the announcement of the pandemic by the Government of Indonesia, in mid-March, we had to adjust the production process to ensure the safety of all involved and comply with the work from home and physical distancing policies. The tailors began to produce the reusable pads from their homes, instead of the production hub.
From our experience, we know that both home production and centralized production have advantages and disadvantages. Home production is necessary during the current pandemic to maintain physical distancing. The tailors have flexible hours and can still continue to generate income to support their families. On the other hand, the tailors, most of whom are mothers and have many household tasks they are responsible for, often find it challenging to allocate the required time for producing the pads from home.


The Perfect Fit tailors work from home due to the COVID-19 pandemic.

Ibu Kristin (41), one of the tailors for the Perfect Fit in Labuan Bajo initially joined the enterprise as a part-time tailor. In addition to her tailoring work, she also has a food stall which she operates together with her husband. They sell fritters, nasi campur and cold beverages to school students and workers in their neighborhood in Labuan Bajo. When the coronavirus pandemic began, however, and schools, offices, and airports were closed down, her food stall business suffered badly.
"No one has come to my food stall during the past two months. If it weren't for Perfect Fit, we would not have any income", said Ibu Kristin.
Other tailors of the Perfect Fit initiative are also grateful to be able to continue to earn income through pad production. Ibu Patris' husband normally operates a boat that takes tourists around Komodo Island. As a result of the pandemic, he is not able to earn any income. This is a familiar story across Labuan Bajo.
While the pandemic has meant that we need to postpone several of the Perfect Fit project activities such as reseller training and outreach activities on Menstrual Hygiene Management (MHM), we are still able to produce and sell a significant amount of pads, providing access to women and girls to the reusable pads through our existing resellers and partner network. The Perfect Fit project also provides tailors with a sustained form of income in these challenging times, enabling them to continue to support their families.
COVID-19 has also pushed us to be creative and shifted our outreach strategy from offline to online campaigns. We have been able to share educational posts with women and girls through Facebook. To mark Menstrual Hygiene Day on 28 May 2020, we conducted a live discussion on the Perfect Fit Facebook Page providing a safe space for women and girls to ask questions around Menstrual Health Management.
COVID-19 may have brought the world to a temporary standstill, but menstrual hygiene management remains an important and relevant issue. Please continue to support the Perfect Fit project by joining the discussion on our Facebook page and purchasing the menstrual pads through this link.