Supporting Women's Organizations Remotely during the Pandemic
It's been over a year since the COVID-19 pandemic hit Indonesia. With the measures restricting movement taken by the government to contain the COVID-19 pandemic, we have shifted and adapted to working from home using a range of digital platforms. Remote work, however, comes with challenges for development practitioners, who often work with underserved communities in remote locations who have limited access to technology and the internet.
Last year, as part of our two-year partnership with the Australia-Indonesia Partnership for Gender Equality and Women's Empowerment (MAMPU), we worked with five women's empowerment organizations located in remote areas of Indonesia. We supported them to strengthen their sustainability plans to continue delivering services to their beneficiaries. The five organizations were: 'Aisyiyah in Sumedang, West Java; Migrant CARE in Kebumen, Central Java; Lembaga Pengkajian dan Pemberdayaan Masyarakat (LP2M) in Padang, West Sumatera; Yayasan Kajian Pemberdayaan Masyarakat (YKPM) in Makassar, South Sulawesi; and Forum Pengada Layanan (FPL) in Jakarta.
At the beginning of 2020, we conducted a visit to the five locations and met with the women in person to conduct a baseline study. However, starting in March 2020 we had to shift our strategy to online activities to ensure the continuity of our initiative. Despite the challenges, we learned three things about what it takes to continue supporting the women's organisations in remote areas during the pandemic.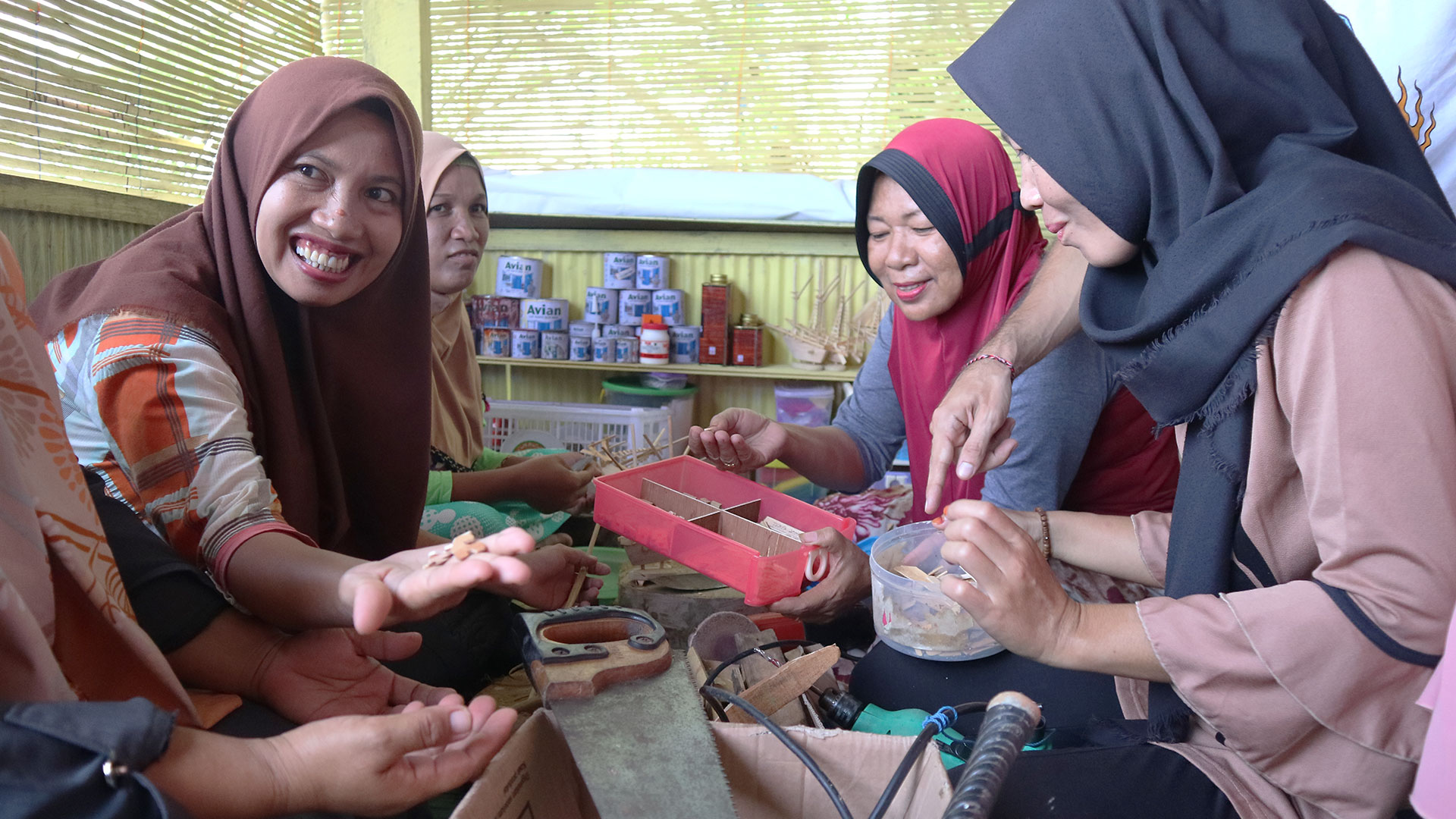 In 2020, we partnered with MAMPU to support five women's organizations to strengthen their sustainability plans so they can continue delivering services to their beneficiaries.

First, we redesigned lengthy in-person workshops into a series of shorter online sessions. As part of our initiative, we worked with Migrant CARE and 'Aisyiyah to support women entrepreneurs in Kebumen and Sumedang to set up their online businesses and improve their business development plans. Initially, we planned to conduct a two-day financial skills workshop. Due to the pandemic, we changed the workshop design into four online sessions, because the participants are likely to find it hard to stay focused on a lengthy online session compared to an in-person workshop. We also gave the women some assignments in between the sessions so the entrepreneurs could practice what they had learned during the online training. With this adjustment, we were able to increase the knowledge of the women entrepreneurs in bookkeeping and product cost calculation which improved their business practices in general.
Second, the success of online support for remote communities was not related to good wi-fi connections or the latest gadgets, but instead to the willingness of the participants to learn and improve their skills. In collaboration with YKPM, we supported a group of women entrepreneurs located on a very remote island, the Sabutung Island, Pangkep Regency, South Sulawesi, which has intermittent electricity. To improve their woodworking skills, we engaged with a woodworking trainer from Makassar and developed tutorial videos on how to make three types of wood-based products. We also facilitated online consultation sessions and procured a set of woodworking tools to improve their crafting processes. Despite the limited electricity on the island, the participants were very eager to learn to improve their skills and thanks to their young, high spirited, and tech-savvy daughters who assisted their mothers during the online training. Their daughters also helped to set up Instagram accounts to promote their mothers' wood-based products and reach a wider market. We realized that their enthusiasm to learn and improve played a critical part in the success of the online workshops and consultation sessions.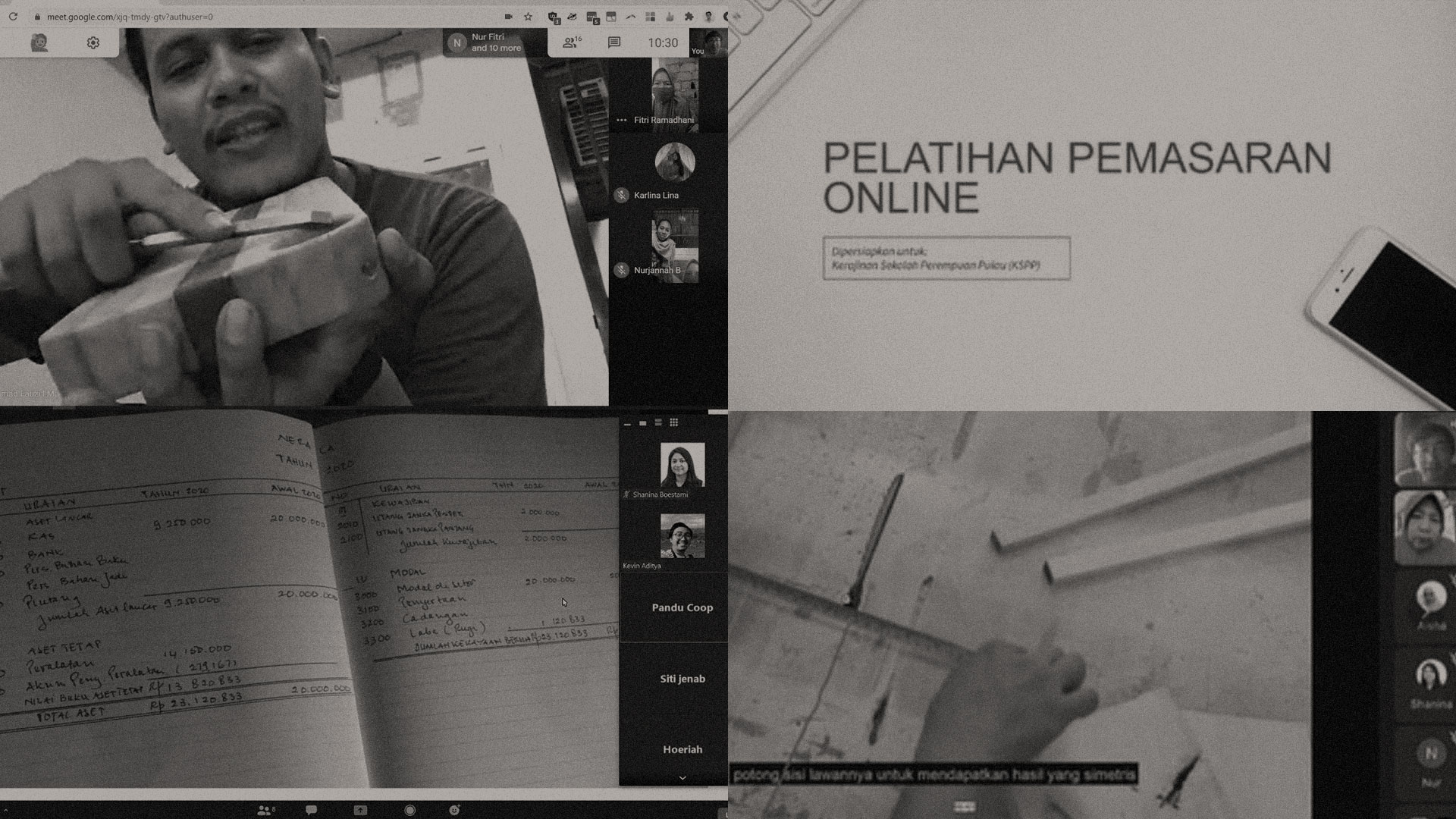 We engaged a woodworking trainer and developed tutorial videos to improve the woodworking skills of a women's group in South Sulawesi.

Third, strong coordination with local partners was key in supporting remote communities during the pandemic. Our local implementing partners were the people with whom the participants had been working closely for a long time. They have therefore gained the trust of the local communities. We were grateful for all the MAMPU partner organizations who collaborated with us and patiently supported the participants to adapt to using technology, attending online training, and gaining new skills during these challenging times. We would not have been able to deliver our support, without their ongoing assistance.
The pandemic may have created challenges to deliver initiatives to achieve sustainable development, but we need to get creative and find innovative solutions to continue supporting the livelihoods of underserved communities. We will continue to incorporate digital initiatives in our work until the situation improves and allows us to implement our projects in person, again.