Taking Impact to the Next Level in 2020
One of the highlights of 2019 for us at Kopernik was the Nobel Prize in Economics win of Abhijit Banerjee, Esther Duflo, and Michael Kremer. The trio were recognized for their groundbreaking experimental approach to alleviating global poverty, which has greatly influenced policies in many countries including Indonesia. The award confirms the importance of experimentation in the development sector — an approach that Kopernik has been championing through our own lean experimentation work.
2020 marks the fourth year since Kopernik began focusing on conducting lean experiments, and we are now even more confident about the positive impact that this approach can bring to the development sector. In 2019, we conducted various lean experiments addressing issues ranging from improving agricultural processes for farmers, menstrual hygiene in East Nusa Tenggara, disaster response in Kalimantan, and plastic pollution prevention in Bali. As always we are grateful for your continued support and all the work we conducted in 2019 was possible thanks to the Kopernik team, our clients, our donors, and our partners.
Sadly, we entered 2020 with two grim environmental tragedies. The year began with massive destruction of large parts of Australia as a result of the worst bushfires on record, resulting in the deaths of more than a billion animals, 28 people (as of 14 January 2020) and thousands of properties destroyed or damaged, Reuters reported.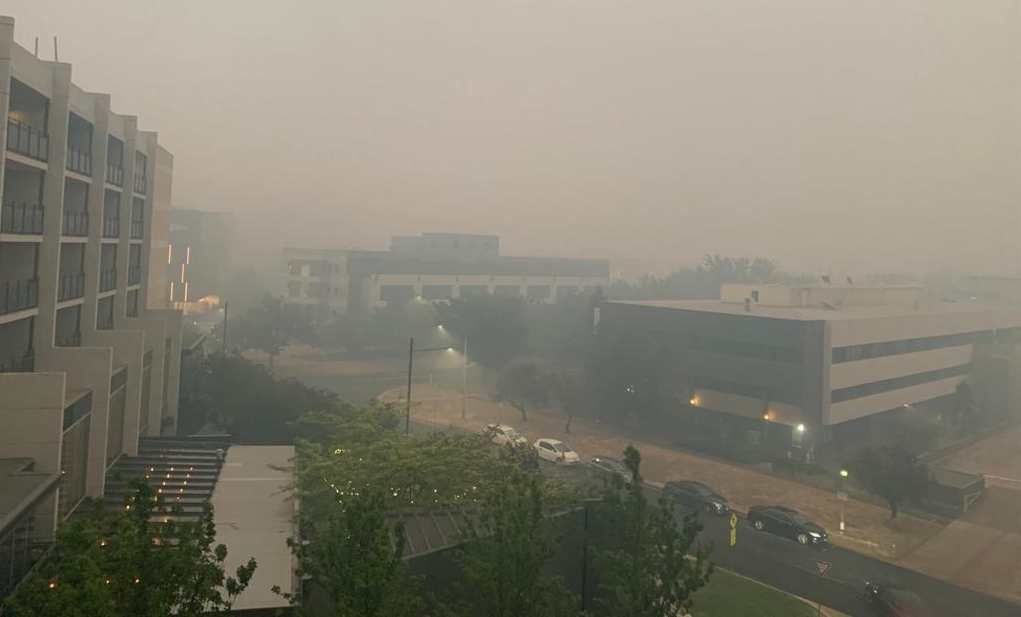 A smoky view of Canberra (Photo credit: Ewa Wojkowska/Kopernik)

On New Year's Day I woke up in a city with the worst air quality in the world on that day - Canberra - the smoke from the bushfires had pushed the Air Quality Index (AQI) reading up to 7,700 - a reading above 200 is considered hazardous. Having worked on haze related air quality issues in Kalimantan over the past few years, I am familiar with the dangers of breathing in toxic air, yet I never expected to experience this in Canberra. It brought home the realization that when it comes to climate change and natural disasters - everyone is affected.
At the same time, while Australia was in the depths of drought and burning, massive flash floods following heavy downpours in Banten, Jakarta, and West Java devastated 1,600 homes across the three provinces. Indonesia's Social Affairs Minister Juliari Batubara said on 14 January 2020 that approximately 26,463 people across the three provinces are currently still displaced out of their homes due to the floods.


2020 began with two environmental tragedies: massive bushfires in Australia and flash floods in Jakarta.
(Photo credit: AAP Image/Jeremy Piper/via REUTERS and Achmad Ibrahim/AP)

These events serve as an urgent reminder on the need for change and more practical and innovative solutions to address these and other crises. In 2020, Kopernik will increase our impact in finding and applying promising solutions to social and environmental problems. We will also be better at sharing our insights - both the successes and the failures - and forge partnerships to scale impactful solutions. We recognize the importance of sharing our findings so that others can learn, improve on them, or replicate effective solutions.

When knowledge of what works — and what doesn't — is shared proactively, this can expedite the process of finding and adopting effective interventions.
2020 also marks 10 years since we started the organisation from a small Brooklyn apartment. While Kopernik has undergone many transformations to adapt to the evolving needs of under served communities, we continue to exist upon the belief that more effective solutions are needed to address urgent social and environmental problems. We are ready to embrace the new decade and tackle some of the biggest challenges facing the world today.