The 'Market Hopper' from East Sumba
It's only three o'clock in the morning, but the day has already begun for Mama Eta — one of Kopernik's Wonder Women in East Sumba, Indonesia. For Mama Eta, every day begins like this, long before dawn. She wakes up at three, prepares breakfast, packs her things and catches a bus for a two-hour journey to any one of several neighbouring sub-district markets to sell her wares. Each day is a different market in a different location.

Once she arrives, she wastes no time and sets up her space right away as she does not want to miss a single potential buyer. Around six-thirty or seven, these markets fill up quickly with people looking for every-day necessities like fresh produce, cooking supplies and other groceries. But Mama Eta's stall at the market is not quite as typical. On one side, there are our life-changing technologies like solar lights, water filters and biomass cookstoves — items that look a little odd in comparison to the wares of the other stalls. And right next to it, there is a huge amount of betel nut piled up like a mountain.
Why betelnut? Well, betel nut is a very common commodity in Sumba. It is served as an introductory food for Sumbanese people. Offering betel nut to guests is a sign of welcoming and is a polite way to start conversation amongst friends, family and other community members. For Mama Eta, betel nut is used in the marketplace in a similar way. It's like she is opening her door to invite people to come and chit-chat, while she introduces the technologies and explains how they can truly benefit customers in their daily lives. And with her friendly and compelling nature, it is not hard to see how she can encourage interest in the technologies.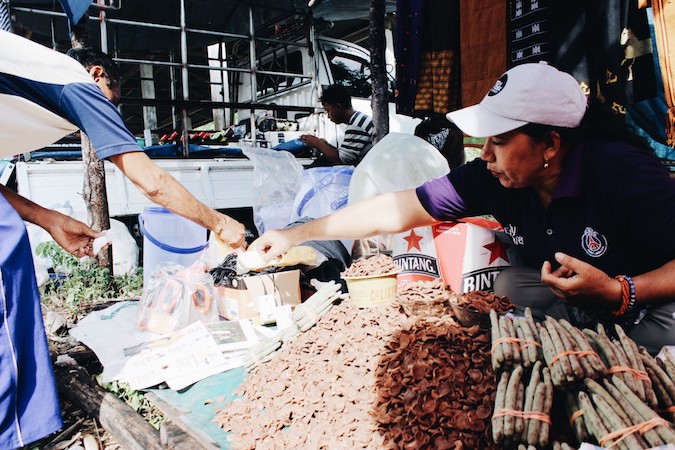 Mama Eta's journey as a Wonder Woman for Kopernik started around a year ago, when she met Widi, a Kopernik team member. Widi was demonstrating our technologies with various community members and Mama Eta was so inspired by what she saw that she bought some for herself. But after using them she was convinced of the benefits and wanted to spread the word to others by selling the technologies herself. The very next day, she asked Widi to bring her two cookstoves and she managed to sell both almost immediately. "I guess I am a natural seller." she laughed.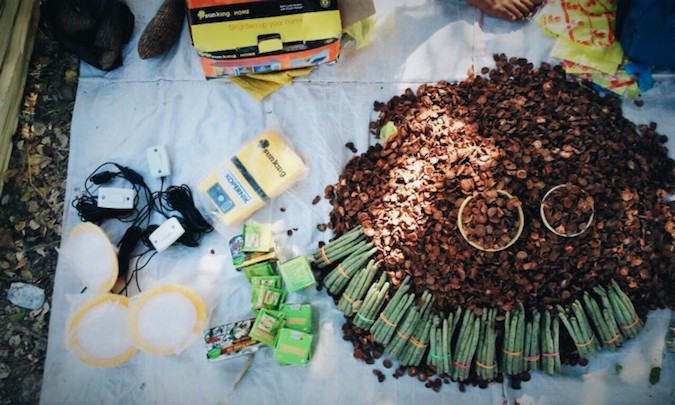 But things haven't always been nice and easy for Mama Eta. Her journey as a micro-social entrepreneur started a long time ago and was quite difficult at times. In the past, she has needed to try different things and has sold everything from woven bamboo screens and mats (that she made) to herbal drinks and peanuts. She has had some tough times along the way; including dealing with aggressive local security guards who have forbidden her to sell her products in public markets. Or another time when she sold peanuts from six in the morning until midnight, only to earn as little as 6,000 rupiah. She recalls this as her lowest point, "That night, I cried so much and I prayed to God to give me strength." But she did not give up and continued selling again the next day.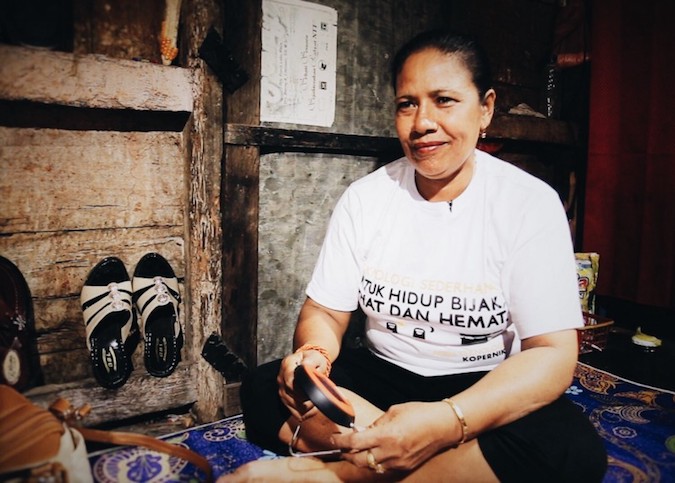 "After that time, I always push myself to be stronger and to be grateful for every sale I make. Now, I enjoy selling technologies because I use them myself and know the benefits. The technologies can really help people." she further explained.
So, as a strong-willed woman with determination to show people these great technologies, Mama Eta travels all over Sumba to reach as many people as she can. She travels so much because in Sumba, like many parts of eastern Indonesia, travel is slow with winding, often poor quality roads. Districts, sub-districts and towns are often far apart. And every sub-district has its own market day which happens only once a week. But Mama Eta has the schedule and knows where to be on which day. So, it really won't be surprising if soon, all the sub-districts in East Sumba fill up with clean energy technologies from the efforts of Mama Eta, the 'Market Hopper from East Sumba!