By Women, For Women: Tailoring the Perfect Fit Reusable Menstrual Pad
Every single woman who menstruates, anywhere in the world, can agree on one crucial factor when choosing menstrual hygiene products: make sure there is no leakage. Leakage during menstruation can create shiver-inducing anxiety, distracting many women and girls from comfortably living their lives to the fullest. Addressing the issue of leakage was one of the biggest tasks we had to overcome in designing an affordable reusable pad that is true to its name, the Perfect Fit.
The questions started… Is a thicker pad the answer? Will it be comfortable enough? If so, how thick does it need to be? What kind of material would be appropriate? What fabric is absorbent, moisture-wicking and breathable? As we developed the pad design and sought to find answers to all these questions, we turned to a women-centered design (WCD) framework to guide us, in which ensuring user comfort and needs are paramount.
Women at the center of research
WCD is a concept promoted by the Menstrual Health Hub as an extension of Human-Centered Design that focuses specifically on women's needs. The framework seeks to highlight the significant market opportunities created when women are placed as the central users, beneficiaries, and customers of a product. With a WCD framework, effective solutions - including menstrual health products - can be explored by innovatively addressing pain points during product development, which can eventually result in greater financial return and social impact. Milena Bacalja Perianes from the Menstrual Health Hub writes in her blog, "Women-Centered Design is more than 'making everything pink'", there are four basic principles including creating socio-cultural, biological, economic, and environmental impact.

As we developed the Perfect Fit reusable menstrual pad, we assessed the women's pain points through these four principles. Socio-cultural and biological impact was addressed by using the development of the Perfect Fit pad as a way of opening up a dialogue about Menstrual Hygiene Management (MHM) and Sexual Reproductive Health Rights (SRHR) amongst a few different groups - those who provided feedback on the product design, those who made the product and those who sold the product, plus their customers. MHM/SRHR are still deemed taboo topics in many parts of Indonesia, including in rural East Nusa Tenggara, where we have been working. By providing education around myths and women's bodies, while gaining feedback on women's needs in regards to their menstrual health products, we created a win-win scenario where people were comfortable sharing their challenges and requirements.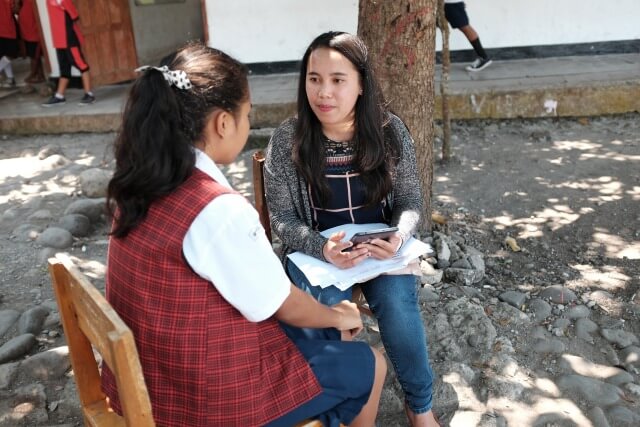 Our team conducted three user feedback assessments for each design prototype (Photo credit: Riesa Eka Putri/Kopernik)

Through the feedback provided, we learnt that each woman has a unique body shape and that size matters in terms of comfort and flow. We responded to this by providing two pad sizes - a smaller 'day' pad for regular flow and a larger 'night' pad for heavy flow.
Women at the center of production
To assess the economic and environmental factors, we built on our findings from a previous small-scale research study in 2016 that found that reusable pads manufactured outside of the immediate region are too costly and in general, are inaccessible for remote communities. In Indonesia, environmental concerns are related to the fact that disposable menstrual pads create 282 tons of waste per year with limited waste management infrastructure to deal with it1. This knowledge led us to establish a local manufacturing hub in Ruteng, Manggarai regency, involving ten female tailors as our product manufacturers. Producing locally minimises the cost of the pad and also provides access to a product that is more environmentally sustainable. The women also helped us to refine the final pad design, advising us to use buttons to secure the pad instead of snap fasteners. They explained that the machine for snap fasteners is not available in the local area and when a button needs replacing, this could easily be done by the customer.

Throughout the process we developed three prototypes. Our final design is available for sale through our network of local resellers in Ruteng as well as online platforms such as Facebook and Tokopedia.



The three prototypes that we developed (Photo credit: Fauzan Adinugraha/Kopernik)

At the heart of human-centered design is a passion to keep modifying and perfecting the product based on continued feedback from users. To this end, Kopernik is seeking further funding to continue to develop this product and also to investigate other such products, like menstrual underwear. We intend to expand manufacturing across both rural locations (Ruteng and Labuan Bajo, East Nusa Tenggara) and urban centres (Gianyar, Bali and Bojonegoro, East Java) to expand our market. Kopernik's approach to this project allowed us to combine experimentation, rapid prototyping and adopting a WCD framework, to create a product made by women, for women.
"The Perfect Fit: A Smart Entry Point to Reshape Menstrual Health Management in Indonesia" was an 18-month program that was completed in September 2019, supported by Grand Challenges Canada, funded by the Government of Canada.
About Grand Challenges Canada
Grand Challenges Canada is dedicated to supporting Bold Ideas with Big Impact®. Funded by the Government of Canada and other partners, Grand Challenges Canada funds innovators in low- and middle-income countries and Canada. The bold ideas Grand Challenges Canada supports integrate science and technology, social and business innovation – known as Integrated Innovation®. One of the largest impact-first investors in Canada, and with a feminist investment approach, Grand Challenges Canada has supported a pipeline of over 800 innovations in more than 80 countries. Grand Challenges Canada estimates that these innovations have the potential to save up to 1 million lives and improve up to 28 million lives by 2030.
---
1 Calculated based on 8 pads per menstrual cycle, each pads weight 35 gr, multiplied by 84 million menstruating women in Indonesia