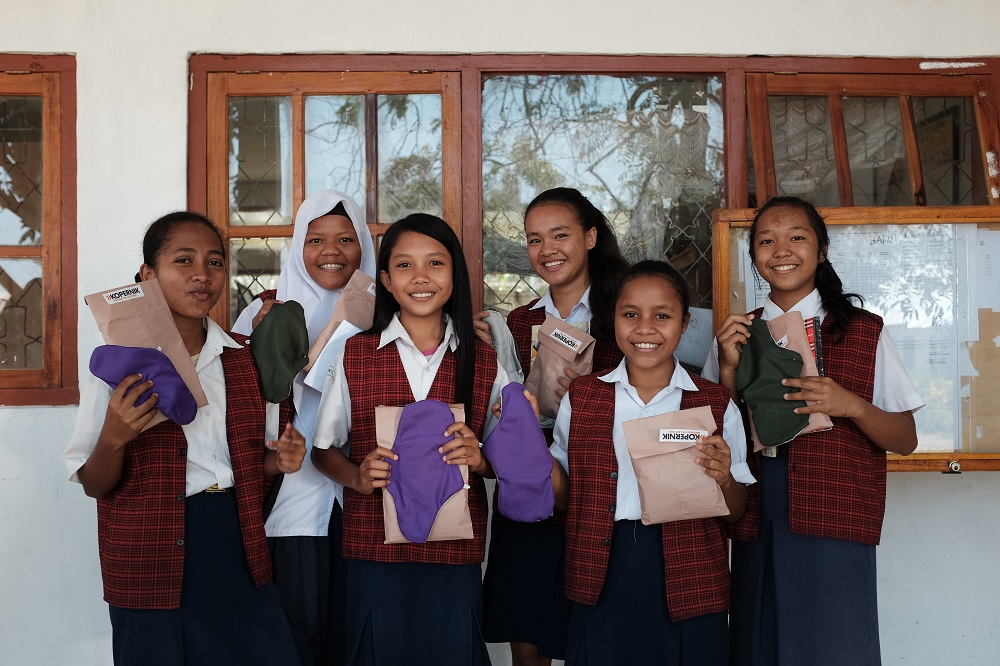 Debunking Menstrual Taboos, One Reusable Pad at a Time
"Girl, wash your sanitary pad before you throw it out, otherwise ghosts will follow you"
That was the myth I was told by my mom and my friends during the first year of my period. I was 11 years old, a young girl, and did not know much about menstrual health issues. I really was afraid that ghosts will come and haunt me, so without hesitance, I followed that advice. It was only when I reached the age of 18 that I realized that the information was false. As it turned out there were no ghosts haunting me during my period.
Unfortunately, taboo surrounds the issue of menstrual health not only in Indonesia but in many other countries too. In rural Nepal, a 22-year-old woman died because she had to sleep outside of her house during her period in winter.1 In the Solomon Islands, a woman has to pay money as an apology to a man if he sees blood stains on her clothes from her period.2
Menstruation is still a big challenge today for many girls around the world, even though it is a natural and normal process. It is the only blood that does not result from sickness or violence. It is a sign for a woman that she is fertile, something she should not feel ashamed or worried about. In fact, enabling women to experience their period without restrictions leads to many positive outcomes such as a healthier reproductive state, a more productive workforce, women's empowerment, and greater gender equality.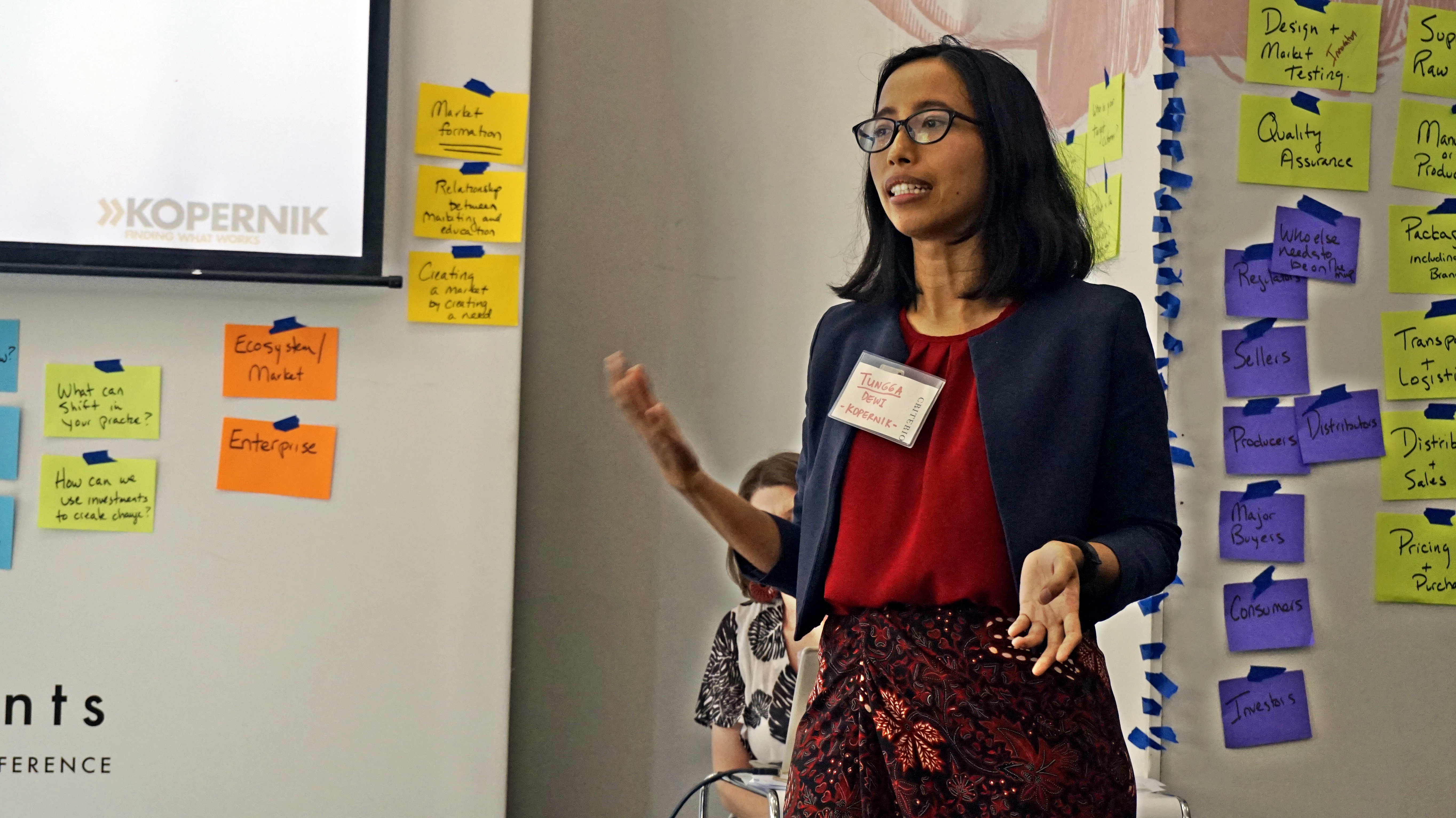 Kopernik shared about our menstrual health project in Ruteng, Flores that seeks to manufacture locally-produced reusable pads.

These issues were discussed during a menstrual health workshop that I attended in Melbourne in September held by Pacific Readiness for Investment and Social Enterprises (Pacific RISE) and the Criterion Institute. The objective was to maintain the momentum of "The Last Taboo Report", which revealed the critical nature of ensuring women and girls have access to menstrual health services and products to enjoy a high level of health, dignity, autonomy, and control over their lives, linked to their educational and economic opportunities. The participants came from a wide variety of background from social enterprises, nonprofit organization to the government, who mainly work in the Pacific Islands, such as World Vision Vanuatu, Mana Care in Samoa, Marie Stopes Timor-Leste, and DFAT.
Together with Sarah Wilson, we were proud to be invited as representatives of Kopernik's Solutions' Lab to share our knowledge in implementing a menstrual health project in Ruteng, Manggarai Regency, Flores, Indonesia. In collaboration with Simavi and AYO Indonesia, we are working to manufacture reusable pads locally in Ruteng, tailored by women for women. We chose the process of developing a reusable menstrual pad product as an entry point to encourage more open discussions around menstruation, which is still a taboo subject in the area.
In Flores, most of the people throw their disposable pads in the river, landfill, forest or even burn them because they do not have proper waste management infrastructure. The availability of locally-sourced reusable pads could provide an affordable and eco-friendly alternative for the women of Ruteng in managing their periods. It also has the potential to offer a new source of income and skills development for the local tailors who manufacture the pads.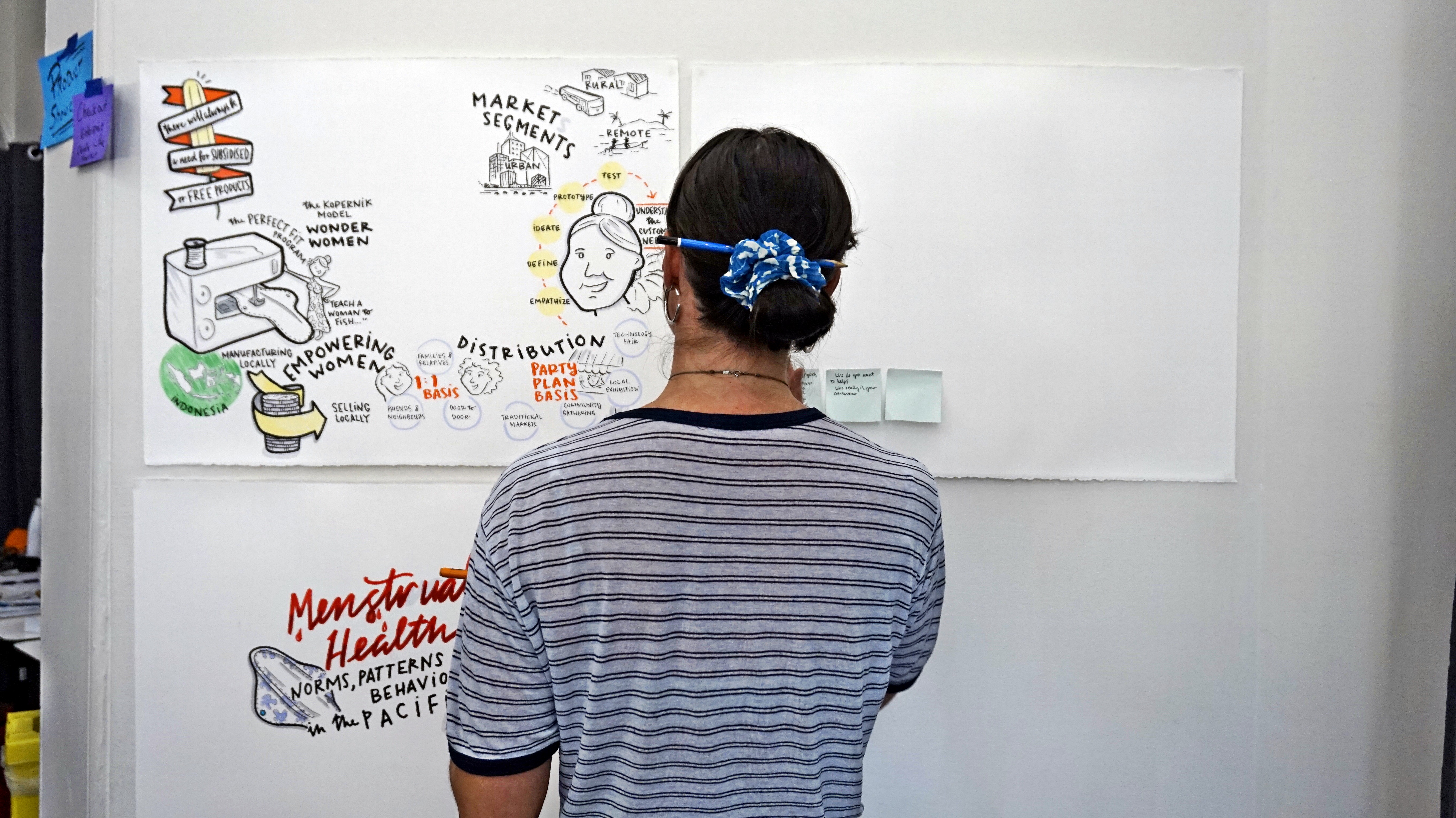 The menstrual health workshop aims to reveal the critical nature of ensuring women and girls have access to menstrual health services and products.

Based on our findings from an earlier experimentation project with schoolgirls in rural Sumba, Flores, we know that price is a defining feature for market adoption in rural and remote areas. Even if the cost of reusable pads can pay off in the long run, the savings are too small to offer a strong incentive for women and girls, our project found. Therefore, we need to keep the price point as low as possible while still maintaining the quality of the product to create a sustainable menstrual health market in rural Indonesia. This is easier said than done, and the workshop assisted us to explore ways of pooling resources to negotiate better prices on fabric and potentially attract investment to create a more sustainable long-term business model. We also learned important tools to identify and define our market segment during the workshop, which will shape our marketing and pricing strategy.
Beyond the tools and knowledge learned from the workshop, I felt so much connection with the participants. As women, we all share similar challenges addressing this problem and there is so much we can do to work together. I am encouraged to be optimistic that other young girls in the future won't have to experience the same challenges I felt at 11 years old. They will not feel ashamed when they get their first period and will instead embrace it as a sacred moment to celebrate entering adulthood as a healthy woman.
"The Perfect Fit: A Smart Entry Point to Reshape Menstrual Health Management in Indonesia" is supported by Grand Challenges Canada, which is funded by the Government of Canada.
About Grand Challenges Canada
Grand Challenges Canada is dedicated to supporting Bold Ideas with Big Impact®. Funded by the Government of Canada and other partners, Grand Challenges Canada funds innovators in low- and middle-income countries and Canada. The bold ideas Grand Challenges Canada supports integrate science and technology, social and business innovation – known as Integrated Innovation®. One of the largest impact-first investors in Canada, and with a feminist investment approach, Grand Challenges Canada has supported a pipeline of over 800 innovations in more than 80 countries. Grand Challenges Canada estimates that these innovations have the potential to save up to 1 million lives and improve up to 28 million lives by 2030.
---
1 Bhadra Sharma and Jeffrey Gettleman (2018). In Rural Nepal, Menstruation Taboo Claims Another Victim. The New York Times.
2 The Last Taboo (2017). Research on Menstrual Hygiene Management in the Pacific: Solomon Island, Fiji, and Papua New Guinea. A collaborative effort of IWDA, Burnett Institute, Water Aid, and DFAT.