Menstrual Hygiene Day 2019: Finding the Men in Menstruation
For this year's Menstrual Hygiene day on 28 May, we were excited to attend the Menstrual Hygiene Day Youth Fest in Jakarta. The event was organized by Jejaring AMPL, a multi-stakeholder collaboration consisting of civil society organizations such as Simavi and UNICEF, government officials, and academics with a shared concern on the issue of water, hygiene and sanitation. At this event, Kopernik had the opportunity to share about our "The Perfect Fit" project in Ruteng, East Nusa Tenggara which is developing, testing and distributing a reusable menstrual pad prototype that is affordable and accessible to rural and remote communities.
One of the things that struck me at the event was the involvement of boys and men in the discussion. While girls and women still made up the majority of the participants, some young men could be spotted. During the event, the MC and the teenage ambassadors sharing their experiences highlighted the importance of men advocating for menstrual hygiene. This was novel to me as menstrual hygiene has typically been viewed as a 'women's issue'.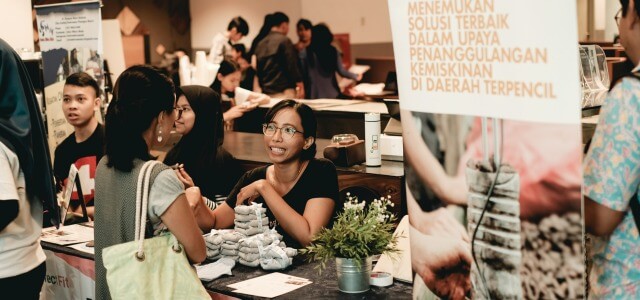 The Kopernik team sharing about the Perfect Fit project during the Menstrual Hygiene Youth Festival on 28 May 2019 in Jakarta. (Photo credit: Gabby Andries/Kopernik)

When I asked a representative from Simavi, one of the organizations involved in planning the event, she said that the involvement of boys and men was indeed intentional and important. "We believe that involving boys is important in debunking the taboo around menstruation," said Angelina Yusridar from Simavi. Zacky Zimah, a celebrity who was a speaker in the panel discussion, encouraged boys and men to understand that menstruation is a normal and natural biological process and they should refrain from teasing girls and women about the issue.
The push for the greater involvement of boys and men in the menstrual hygiene campaign reminded me of the stories from the Perfect Fit project in Ruteng, East Nusa Tenggara. We have heard many accounts of the husbands' of the women tailors who were making the reusable pads being unexpectedly enthusiastic in supporting their wives in the initiative. A similar insight on how spousal involvement - to some extent - can improve sales performance was found in our Wonder Women program in the eastern part of Indonesia.


Many women tailors in the Perfect Fit project are receiving great support from their husbands. (Photo credit: Gabby Andries/Kopernik)

Solving complex challenges requires active participation of all related stakeholders. In the case of menstrual hygiene, it seems that raising men's awareness that women's health is public health could go a long way in improving the lives of girls and women everywhere.
"The Perfect Fit: A Smart Entry Point to Reshape Menstrual Health Management in Indonesia" is supported by Grand Challenges Canada, which is funded by the Government of Canada.
---
About Grand Challenges Canada
Grand Challenges Canada is dedicated to supporting Bold Ideas with Big Impact®. Funded by the Government of Canada and other partners, Grand Challenges Canada funds innovators in low- and middle-income countries and Canada. The bold ideas Grand Challenges Canada supports integrate science and technology, social and business innovation – known as Integrated Innovation®. One of the largest impact-first investors in Canada, and with a feminist investment approach, Grand Challenges Canada has supported a pipeline of over 800 innovations in more than 80 countries. Grand Challenges Canada estimates that these innovations have the potential to save up to 1 million lives and improve up to 28 million lives by 2030.