Introducing Rumbia: a New NGO Focused on Renewable Energy in Aceh
Kopernik is proud to announce the launch of Rumbia, a new independent non-government organization originating from our North Aceh team. Rumbia was formed in order to address specific energy-related issues facing communities in the North Aceh region. The Rumbia organization will focus their efforts on renewable energy solutions and will continue to oversee the Wonder Women program in the region. Kopernik and Rumbia will work closely together on mutually beneficial projects into the future. The new organization was registered under the Indonesian Ministry of Law as a non-governmental organization in December 2016, and officially launched on March 8, 2017.
Lhokseumawe, North Aceh | 8 March 2017 - Complementing the local coffee culture, Rumbia's launch event was held in a famous coffee shop in Lhokseumawe. In the casual setting, Rumbia introduced its vision and mission, team members, and described their planned programs and activities for the next two years. Energy access, government partnership, and application of renewable energy solutions were the main points of discussion.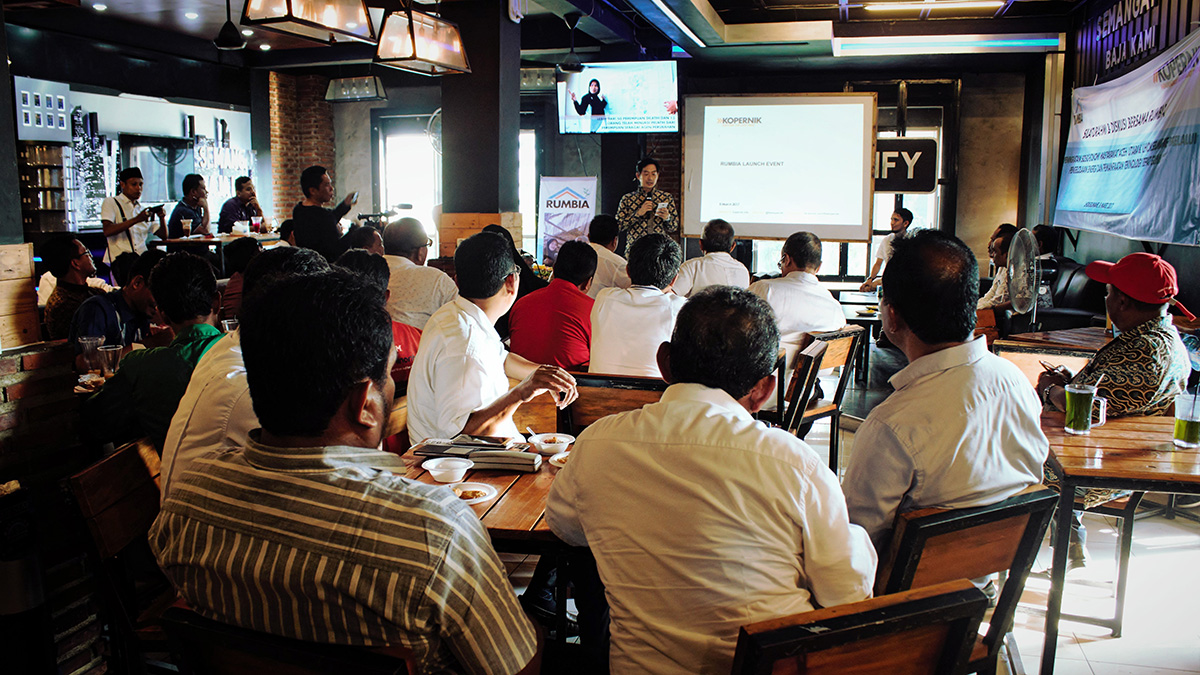 Toshihiro Nakamura, Kopernik's Co-Founder and CEO, attended the event as a key speaker. He emphasized the importance of Rumbia's vision to the people of North Aceh, highlighting Rumbia's unique ability to implement tailored projects that will address the specific energy access challenges across the region. Mr. Nakamura also affirmed Kopernik's support to their sister organization, Rumbia, and spoke of a relationship that is expected to be long and prosperous.
The event also highlighted the close alignment between Rumbia's mission and the objectives of a government community empowerment program currently underway in the region. Mr. Marwan, a representative from the North Aceh regency office, stated that a partnership with Rumbia could leverage their respective strengths and realize shared outcomes. The event was attended by other government representatives from the North Aceh regency office, academics and various prominent community members.
Rumbia will be the first organization in the North Aceh regency to focus specifically on introducing and promoting the utilization of renewable energy to the region. According to Zulfikar Thahir, Director of Rumbia, the organization's approach to resolving the energy challenges in the region will help the people of North Aceh lead more prosperous lives. Using renewable resources will result in economic and environmental benefits.
In a closing statement, Mr. Thahir emphasized that Rumbia will encourage active participation from community members in order to achieve its mission of improving access to renewable energy for those it seeks to serve. "Rumbia exists to help the people of Aceh, so we will involve local people as much as possible in all of our work," said Mr. Thahir.