Kopernik Partners with Islamic Development Bank to Deliver Community Air Quality Monitoring Project
Kopernik is very excited to announce that we are one of 32 recipients of the Transform Fund, receiving a grant for our "Experimenting for Social Innovation: Community-Level Air Quality Monitoring" project. Powered by The Islamic Development Bank (IsDB), the Transform Fund is a new multi-million dollar fund that will drive meaningful change to millions of people by giving every scientist, technologist and innovator the opportunity to make a difference to the world around them.

Kopernik first started working on air quality, in particular haze caused by forest fires in West Kalimantan in Indonesia, back in 2017. Together with UNICEF Indonesia and Pulse Lab Jakarta, we tested a Haze Emergency Kit for household use. Our results showed promise in certain scenarios and we have since developed another intervention based on our learnings from this experiment, creating a design for haze-safe classrooms.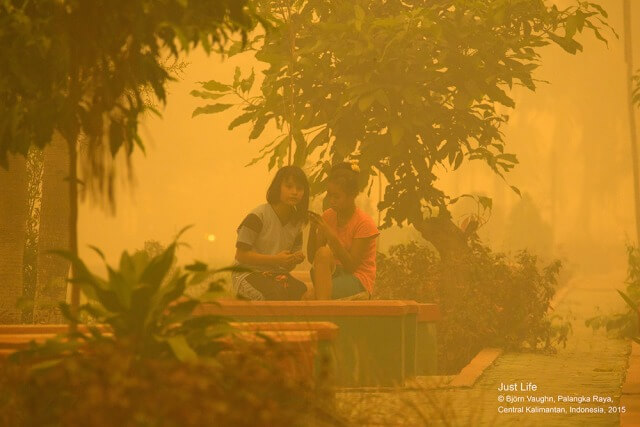 Life goes on during the 2015 haze crisis. Photo by Bjorn Vaughn.

We are currently crowdfunding to implement the "Haze Safe Schools: Emergency Response", working with our partner, Wahana Visi Indonesia, to distribute 10,000 N95 respiratory masks and install Fan Filter Units (FFUs) in a classroom during the current haze emergency in Pontianak in West Kalimantan. This project will test the FFU's effectiveness in protecting school student's respiratory health from poor indoor air quality during haze events while children are in their classrooms at school. Last week, the Mayor of Pontianak, announced the local government's plan to temporarily change school working hours in the city owing to the enormous impact of haze arising from the current land and forest fires.1

Kopernik's interest in air quality crises was also the catalyst for another project, "Protecting Respiratory Health: Locally Produced Respiratory Masks". This project was designed after the Mount Agung volcanic eruption evacuations in Bali which began in September 2017. On this project, Kopernik is working with local tailors and Nano Centre Indonesia to create a locally produced respiratory mask and gain internationally recognised National Institute for Occupational Safety and Health (NIOSH) certification. Locally producing appropriate masks for emergency situations such as volcanic ashfall and forest fire haze will address the problem of N95 standard masks not being easy to obtain during natural disasters - which unfortunately are all too prevalent in Indonesia.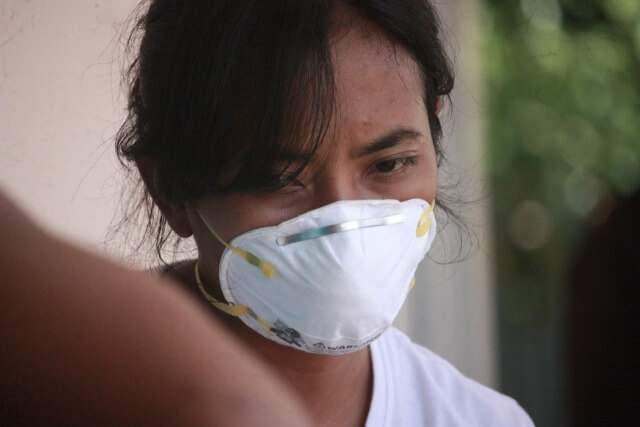 Locally producing appropriate masks for emergency situations will address the problem of N95 standard masks not being easily obtained.

The Community-Level Air Quality Monitoring project or "CAQM" for short, was developed as a further response to this work. While we are simultaneously working on developing appropriate protection methods to address poor air quality, we have realised that a missing part of the puzzle was related to people actually knowing when and how to invoke protection methods. Especially when poor air quality is unfortunately something that they've become used to living with.
With ISDB funds we will work in two very different settings, creating an air quality monitoring system that can measure dangerous levels of air pollution in both urban and rural areas. We will address the urgent respiratory health issues generated by daily urban air pollution in Jakarta, as well as emergency-level rural air pollution spikes due to forest fire haze in West Kalimantan. Why? Because in urban Jakarta, a 2017 study revealed the air pollution level was three times higher than WHO's maximum safe levels, and in 2015, 69 million people were affected by the haze created by Indonesia's slash and burn agricultural practice – resulting in 500,000 respiratory health cases.

How will we do this? Kopernik will work with Pulse Lab Jakarta and UDARA project of Institut Teknologi Bandung to test, calibrate and install low-cost sensors in the two locations, providing real-time information collated on Pulse Lab Jakarta's publicly accessible online platform, Haze Gazer. This information will then be used to provide SMS notifications to affected populations, notifying victims when to take measures to protect their health, and providing general educational material related to poor air quality and health.

We also ultimately hope that this data can be used to influence government policy to solve the original issues that create toxic air and to develop disaster risk reduction strategies. This could potentially create a 'closed loop' solution, bringing us full circle to innovate in the areas of a notification system as well as health protection methods for households, schools and masks for individuals.
Please assist us to reach this goal by donating to our Haze Safe: Schools Emergency Response now.
---