Kopernik's 'Year of Experimentation'
Copernicus challenged the status quo. In radical opposition to conventional wisdom at the time, Copernicus' theory placed the Sun at the centre of the cosmos and called into question human beings' view of their source of knowledge. Reflected across his work, Copernicus drew upon painstaking methods of experimentation, laying the foundations of the 'Copernican Revolution', while significantly altering how we perceive our world.
The experimentation demonstrated by Copernicus remains as relevant today as observed across development agencies, social enterprises and innovation labs promoting and testing human-centred design. Experimentation seeks to effect real sustainable change that positions the disadvantaged to improve their lives. We want to measure impact at a pace that keeps up with the Sustainable Development Goals, and we see the potential for lean experimentation to provide life-improving products.
Kopernik, inspired by our namesake Copernicus' achievements and commitment to experimentation, focuses on poverty reduction using a lean experimentation approach to identify simple breakthrough solutions. Kopernik is an advocate for trial and error to be critical steps in order to identify impactful solutions that can be scaled up.
Rapid experimentation and testing of ideas demonstrates evidence: rapid prototyping in a cost-effective shortened period allows us to understand whether our ideas work so that we provide solutions faster.
Kopernik promotes accountability to last mile communities, ensuring participation across disadvantaged groups whose voices and experiences may otherwise be excluded in the trial, design and delivery of products. With our clients in mind, we are reminded why experimentation, taking calculated risks, and sharing our ideas with the end-user are so pivotal: our products are only perfect when our clients living in the last mile think the products are perfect1 and are willing to purchase them. That's the difference we seek to promote through our experiments.
Bridging private and public sectors, Kopernik communicates in a language that is applicable across sectors through: field-testing life-improving simple technologies; collecting evidence from lean experiments to scale-up approaches; ensuring efficient use of finite financial resources; and sharing learning that strengthens interventions for the poor. In partnership with communities, Kopernik conducts market needs assessments and tests the viability of products. Disseminating the learning from our successes - as well as our challenges- are part and parcel to how we conduct business.
Across project proposals and pitches in the development sector, we insist on innovation (and can't seem to get enough of that buzzword!). But innovative approaches need to go hand in hand with lean experimentation to increase impact. Prototyping tackles the same development problems we see over and over again, and we have learned from experience that rapidly tested solutions support multi-sectoral programming, reduce risk, and lead to better designs faster. Lean experimentation allows us to be agile and to determine relatively quickly that some products will be successful, while some will need to be revised. We recognise that some ideas will fail altogether, but failing quickly ensures that we remain innovative.
HOW DOES THIS APPLY IN PRACTICE? WHAT HAVE BEEN SOME OF OUR KEY LESSONS LEARNED FROM OUR INITIAL 'YEAR OF EXPERIMENTATION'?
REUSABLE SANITARY NAPKINS IN SUMBA
In 2017, the rapid experimentation of reusable sanitary napkins engaged female students in randomized and control groups in eastern Sumba, seeking to ensure that female students don't miss out on critical school days during their menstrual cycle. The control group engaged female students who used disposable pads, which is the common practice in Sumba. The treatment group on the other hand were provided with five reusable pads valued at US$11.73 that last for two years.
Kopernik conducted this small-scale research in a middle school in eastern Sumba to investigate whether reusable menstrual pads had a positive impact on school attendance. While Kopernik learned that girls in eastern Sumba missed fewer school days because of menstruation than what was initially expected, Kopernik did gather other interesting insights. With the average current expenditure per period being only US$0.99, the current retail price of reusable pads (US$2.35) in eastern Indonesia remains too high to be economically viable. Furthermore, Kopernik learned that reusable sanitary napkins had no further influence on reducing school days missed.
Click here to read the full Kopernik Insight.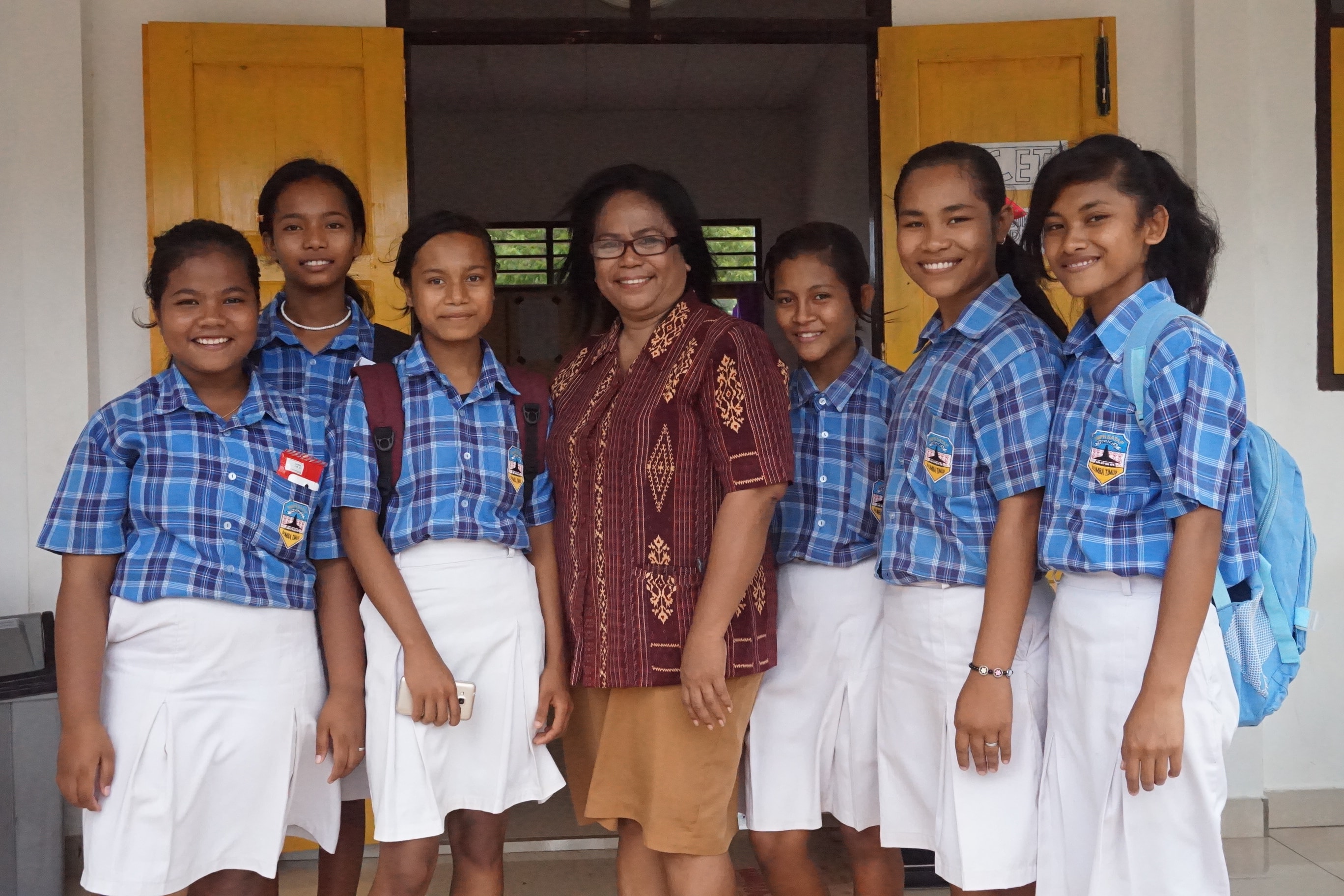 Middle school girls in East Sumba.
SOLAR DESALINATION TECHNOLOGY IN EASTERN FLORES
Kopernik's Solutions Lab recently experimented with a solar desalination technology designed to improve access to drinking water for households living along coastal areas with limited access to clean water. FCubed's Carocell 3000 model was piloted in a household located in a remote coastal village of eastern Flores.
From a technical perspective, the technology demonstrated it could produce an average of ten liters of safe drinking water per day (short of the 20 liters per day that the product description suggested), just enough to fulfil the needs of an average-sized household of 4 people. From an economic perspective, however, the technology remains significantly more expensive than the locally available alternative methods of procuring clean drinking water. Even if the product produced 20 liters per day, the technology remains 60% more expensive- and therefore perhaps prohibitively expensive- than the cheapest alternative method.
You can read the full Kopernik Insight here.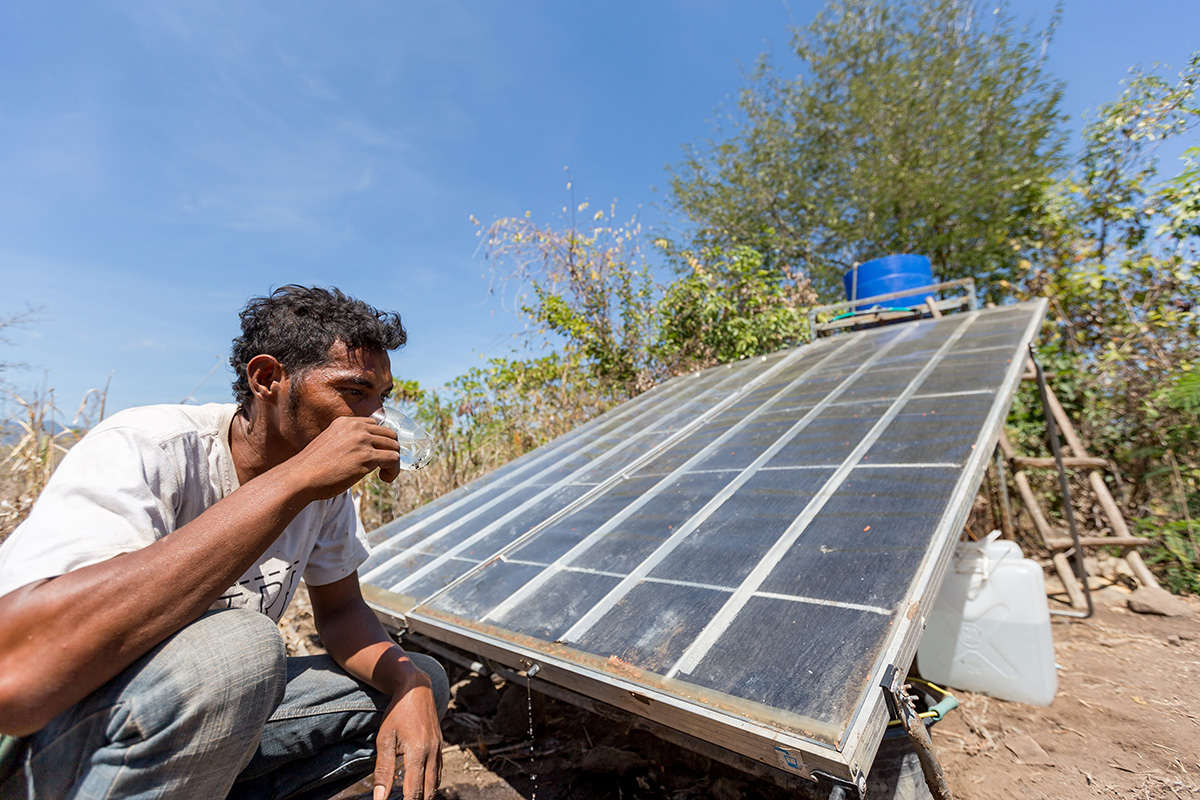 Carocell 3000 water purifier installed in Likotuden village, Flores, Indonesia.

AGRICULTURAL RESEARCH ON POST-HARVEST CHALLENGES FACED BY SMALLHOLDER FARMERS
In our latest agricultural research, Kopernik sought to better understand the post-harvest challenges faced by smallholder farmers in Indonesia. By interviewing farmers and other stakeholders, we found that ineffective crop drying techniques - a common step in the value chain of many commodities - are major causes of economic losses in the agricultural sector. Farmers typically dry their crops under the sun, an inconsistent, and sometimes unhygienic, process that can take many weeks to complete. Kopernik sought to monetize the scale of these losses by taking into account the commodities' national production volume, selling price, and the estimated proportion of damage caused by drying. Across the ten commodities studied, Kopernik estimates the loss to the sector in Indonesia amounts to almost USD$3 billion.
Click here to read the full Kopernik Insight.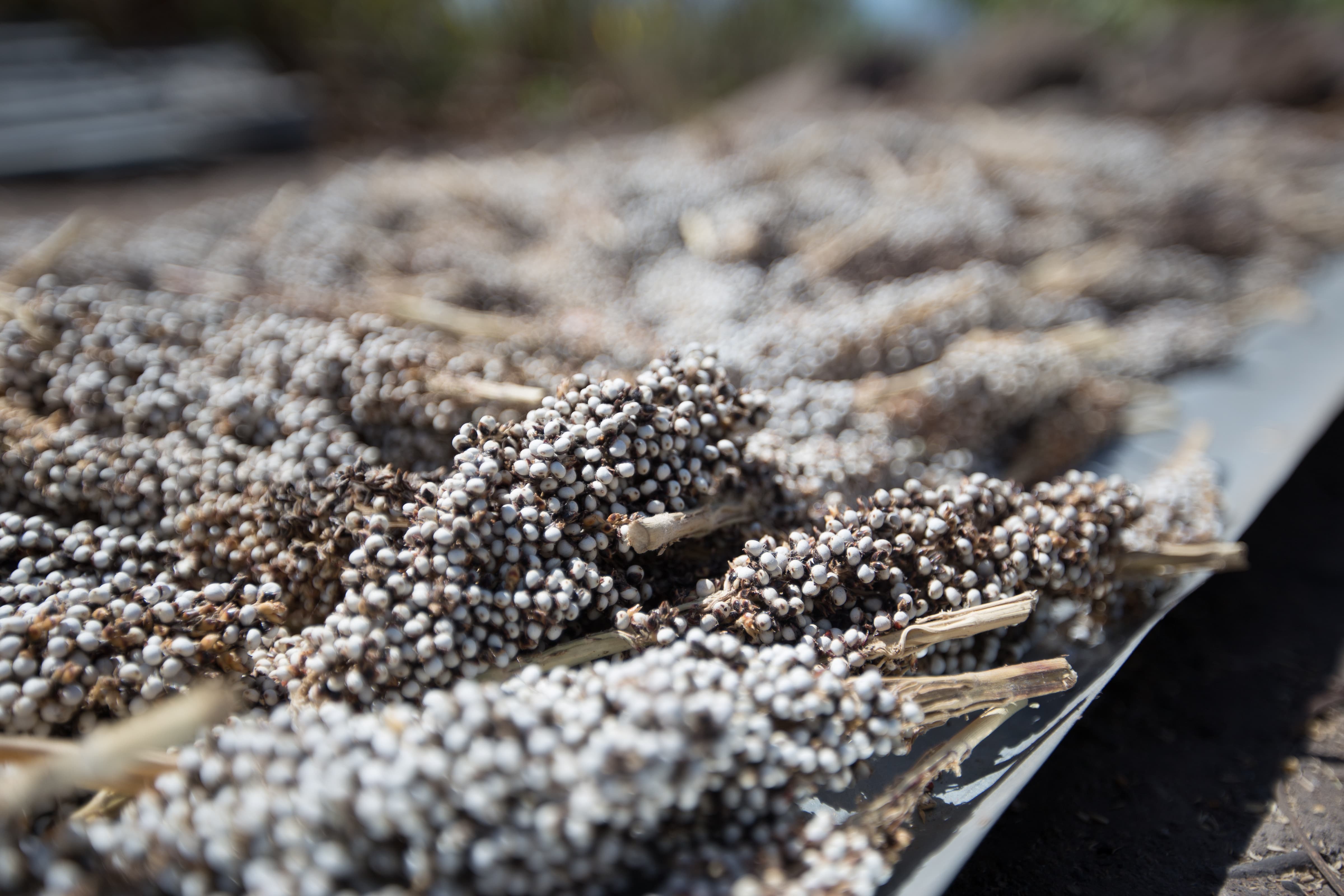 Sorghum, one of the major food crops in East Nusa Tenggara province.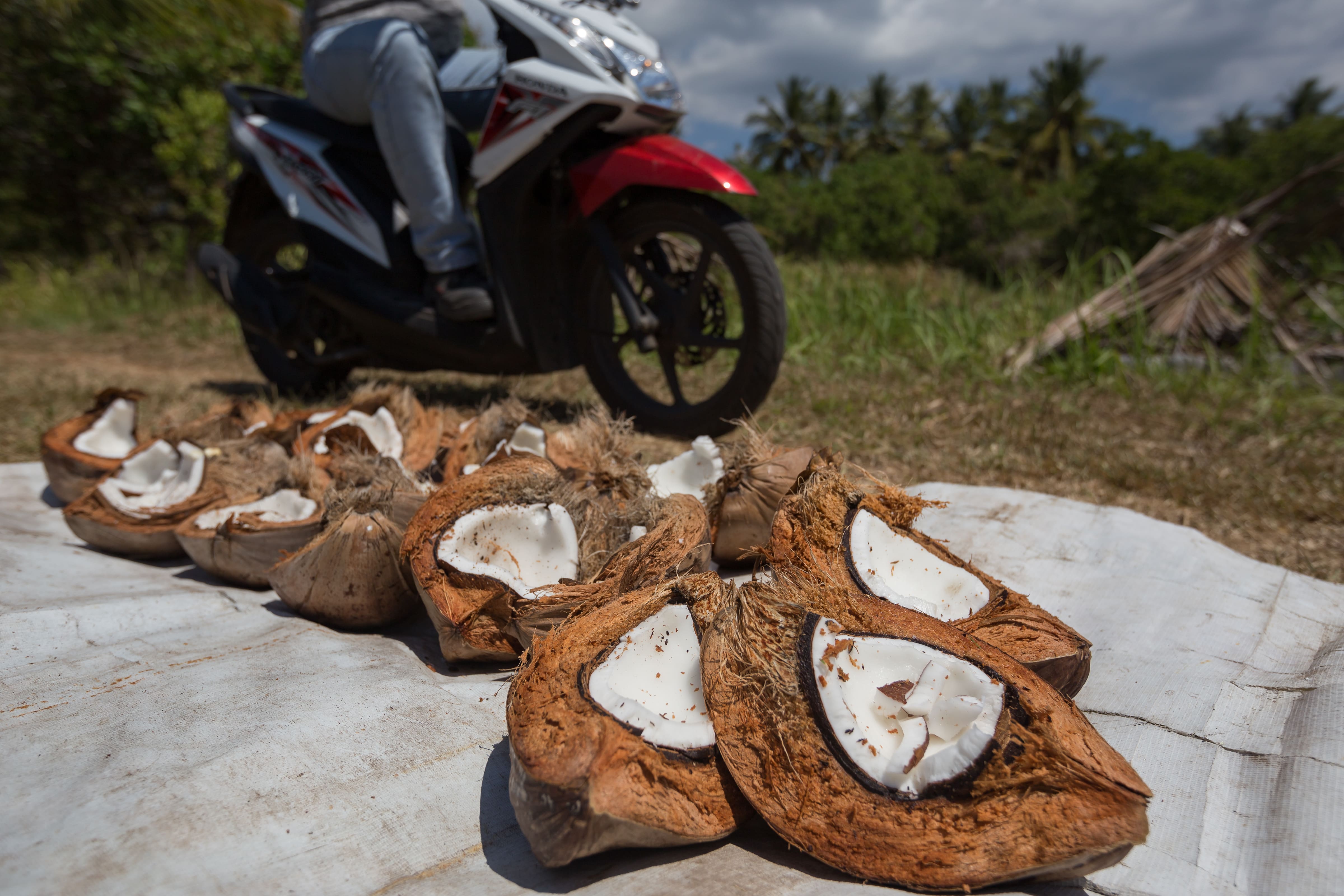 The traditional practice of drying crops involves placing the produce on the ground to dry which leaves it exposed to the elements.
WHAT ARE SOME OF THE MANY EXPERIMENTS' FINDINGS KOPERNIK WILL CIRCULATE IN 2018?
HONEY FILTERS IN FLORES
Kopernik observed that traditional honey farmers use a range of tools that are often cumbersome to carry into the forest. These tools furthermore account for a loss in production during the time-consuming filtration process. Honey farmers lack tools that simplify the honey extraction process, which also save time and thus increase farmers' productivity. Kopernik's forest honey filter is compact, light and easily folded and transported into forests. Kopernik sought to test whether this filter will make the process more cost-effective for farmers, and compared the following indicators between traditional methods of extraction and Kopernik's custom-built honey filter: time required to extract the honey in the forest; average amount of honey lost during the extraction process; average amount of honey extracted in the same period of time.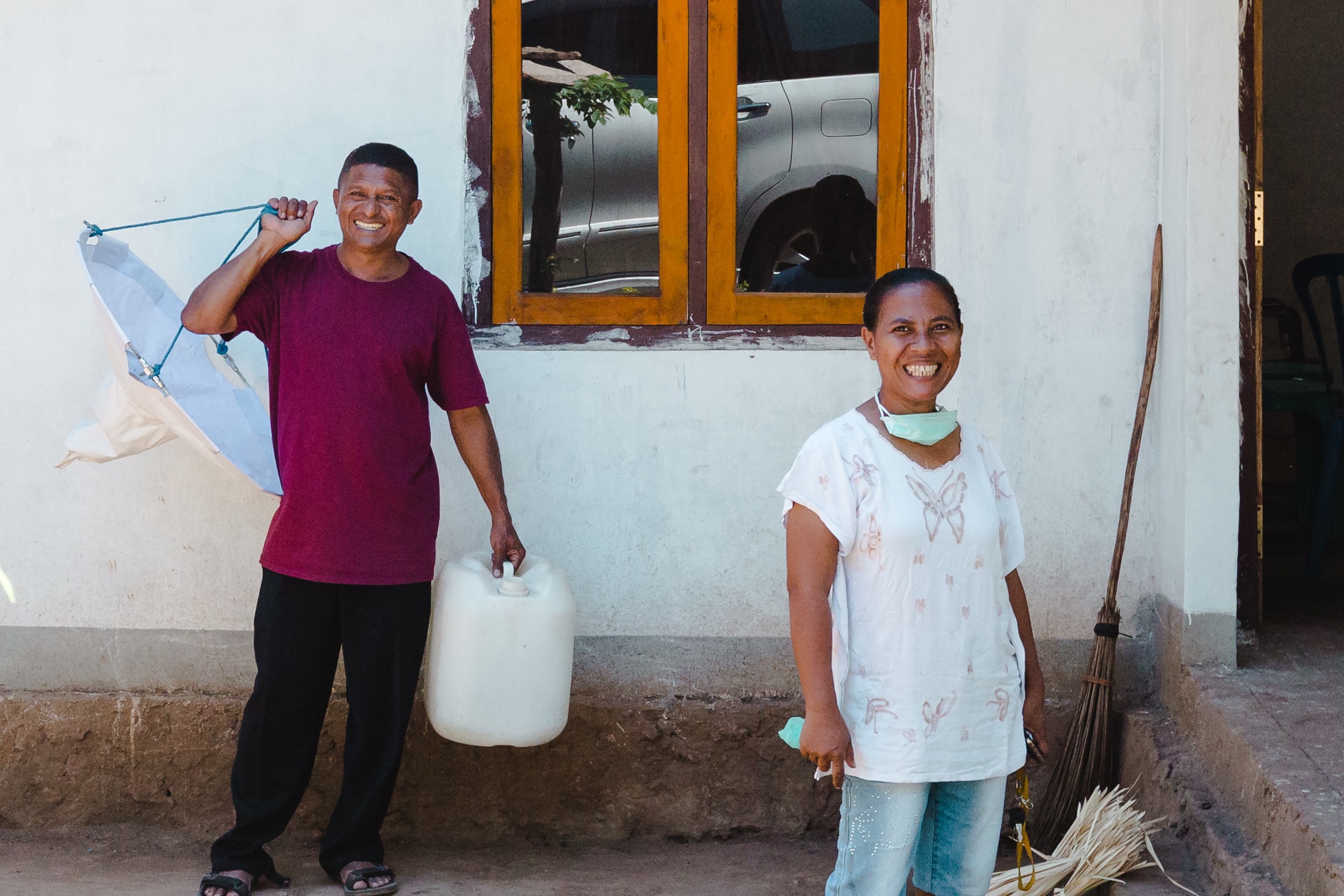 Kopernik's honey filter was made from locally available material, light, and easy to carry.
KOPERNIK MOVING FORWARD BEYOND THE INITIAL 'YEAR OF EXPERIMENTATION'
Copernicus' experimentation and remarkable models from the 16th century remind us to dream big in our execution. We strive for real change for the poor in line with ambitious global goals on sustainable poverty reduction. And in line with Copernicus' lessons, we seek to transform people's lives and worldviews.
---
1
https://www.entrepreneur.com/amphtml/281494