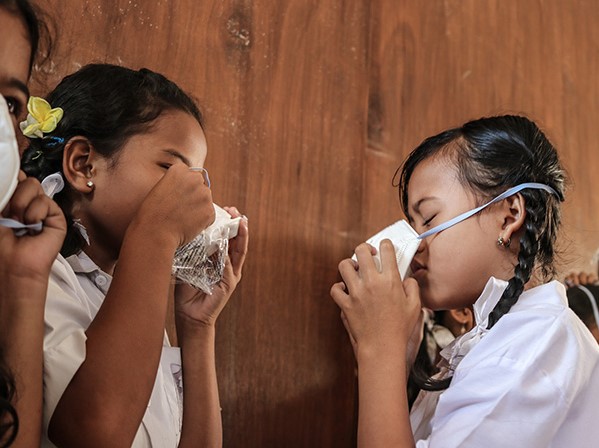 Mount Agung Relief Update: Safe Room Installation for Volcanic Ash Risk Reduction
Kopernik believes that lean experimentation is necessary to figure out how best to meet the needs of people living in the last mile. We recently conducted a series of experiments testing several at-home methods that communities affected by Indonesia's 2015 forest fires adopted to protect parts of their homes. Kopernik also introduced new methods as part of the experiments. The 2015 forest fires and subsequent haze crisis in Sumatra and Kalimantan affected more than 43 million people in Indonesia, leading to hazardous levels of air pollution.1 In Palangka Raya, Central Kalimantan, the National Meteorology and Geophysics Agency recorded the air quality index as six times higher than the specified hazardous level.2 Chronic exposure to toxic air is linked to the risk of developing cardiovascular and respiratory diseases.3

Using the findings from these 'haze-hack' experiments from Kalimantan, in order to support disaster risk reduction efforts, Kopernik has created a safe room installation in a school close to an evacuation center in Tembok, Buleleng regency along Bali's northern coast. The installation comprises a 50m2 sealed-off classroom for 30 children and consists of three self-assembled fan filter units, which remove fine particulate matter while cleaning the air, and two pre-filters, which filter coarse particle material that prevents clogging the fan filter. Surefilter Indonesia generously provided the filters as an in-kind donation.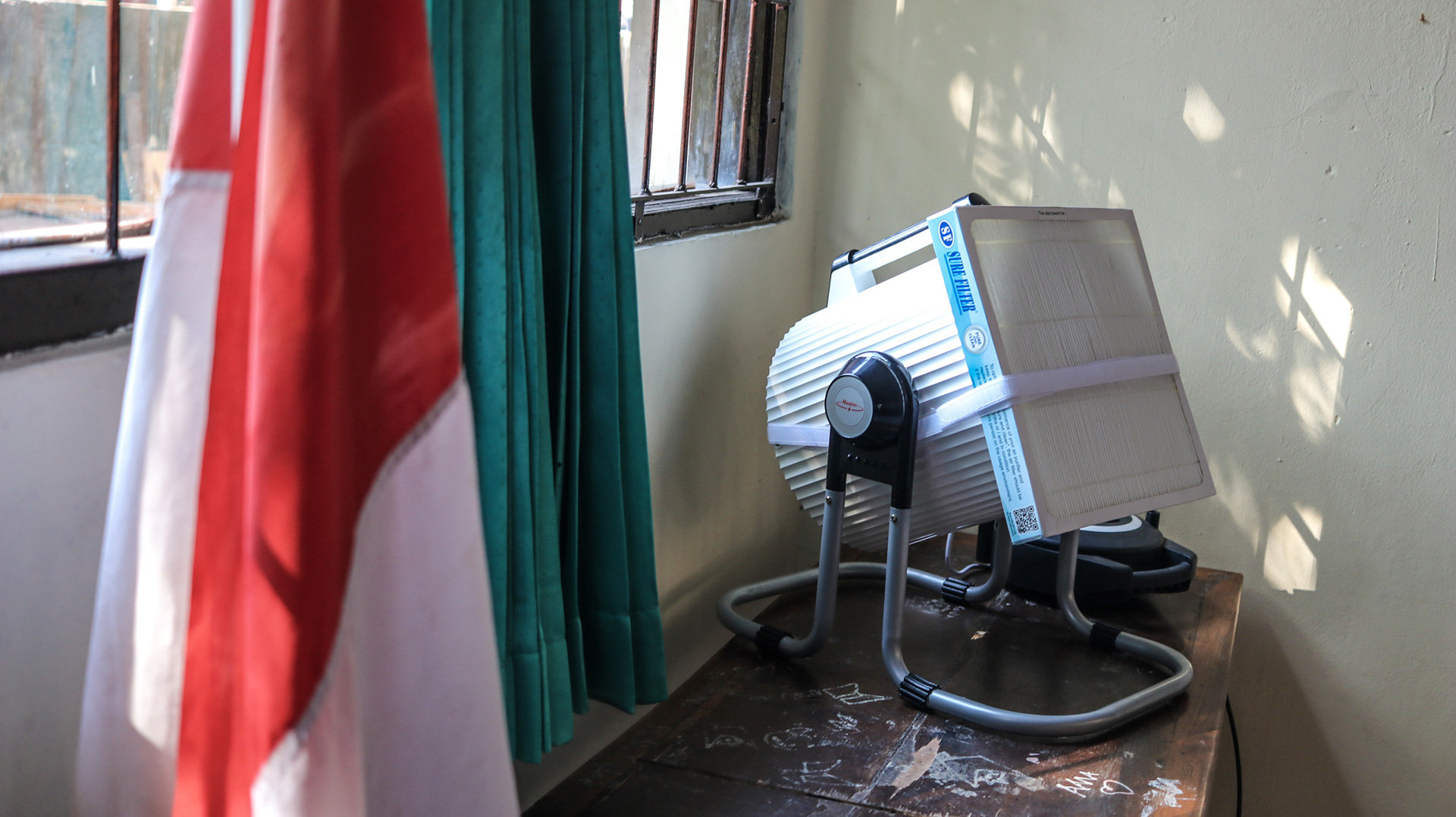 Using the findings from our 'haze-hack' experiments in Kalimantan, Kopernik has created a safe room installation in a school close in Tembok, Buleleng regency (Photo credit: Fauzan Adinugraha)
Mount Agung's eruptions over the last several months have led to the decision by the Provincial Government to evacuate populations living several kilometers from the radius of Agung's crater. In October 2017, at the height of displacement as a result of eruptions, over 140,000 residents living in close proximity to Mount Agung were instructed to leave their homes and evacuate to centers in locations a safe range from the crater.4
A large eruption will potentially expose evacuees to prolonged periods of ash exposure consisting of particulate matter. Based on field site visits conducted by Kopernik, the majority of evacuation sites are open-air, and therefore, in the likelihood of a significant eruption, evacuees would not be fully protected from particulate matter. While Kopernik and the emergency response platform of Mount Agung Relief have provided N95 masks to evacuation centres, the masks have a recommended maximum usage time of several days depending on the brand of the mask. While there are limited numbers of masks available for children between the ages of 6-18 years, there exist no masks on the market for children under the age of five years.
Kopernik and Mount Agung Relief, therefore, recognize that in the absence on the market of N95 mask options and other protective devices for the under-5 years old demographic, creating a sealed-off room installation is one temporary measure which may address this gap. Kopernik continues to search for alternative means of better protecting children who may be exposed to ash and particulate matter.


We participated in "Hari Kesiapsiagaan Bencana Nasional" (National Disaster Preparedness Day) and conducted a volcano disaster simulation for teachers and students at SDN 1 Tembok.
---