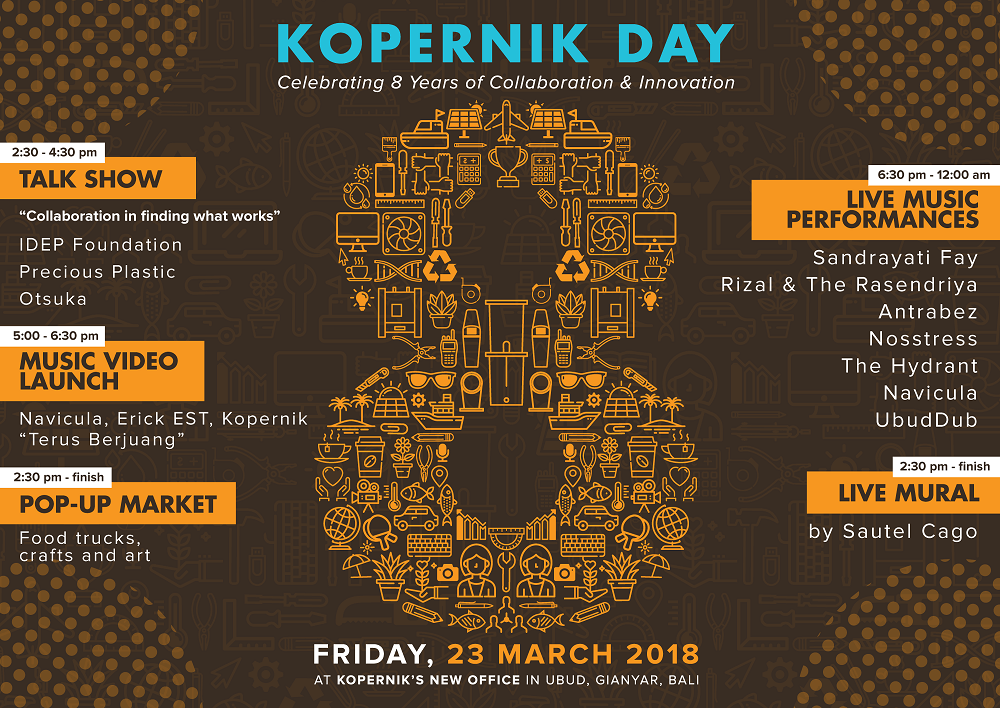 K-Day 2018: Celebrating 8 years of Collaboration and Innovation
Ubud, Bali. 15 March 2018 — Kopernik celebrates its eighth anniversary in finding effective solutions to reduce poverty with a day packed with engaging discussions and an exciting line-up of arts and music performances at Kopernik Day (K-Day) on 23 March 2018.
K-Day 2018 — which will be held at Kopernik's new headquarters in Mas, Ubud — will be a celebration of this collaborative and innovative spirit starting with a talk show featuring Kopernik's partners from various initiatives, including Dani Pranata from Precious Plastic Bali, Petra Schneider from Mount Agung Relief and Yoesrianto Tahir from Otsuka Pharmaceuticals.
"Kopernik has come this far along our journey thanks to the support of many of our partners. As we celebrate our eighth year, we believe more than ever that finding solutions to reduce poverty can only be achieved through collaboration and collective effort," said Ewa Wojkowska, Co-Founder and COO of Kopernik.
In 2010, founders Ewa Wojkowska and Toshi Nakamura established Kopernik upon the belief that more effective solutions are needed to solve persistent development problems. In practice, this has meant building partnerships across sectors, ranging from partnering with global corporations such as Unilever and Mitsubishi Electric, academic institutions such as the Abdul Latif Jameel Poverty Action Lab (J-PAL) and like-minded organizations such as Precious Plastic Bali to collaborating with Bali band Navicula on a tour across Australia.
"The partnership with Kopernik has been an exciting challenge. Together, we have been learning a lot about machine-making, molding and the various ways to recycle plastic waste," said Dani Pranata, founder of Precious Plastic Bali.
As part of our collaboration with Navicula and Erick EST, we will be unveiling a music video of Navicula's 'Terus Berjuang' and a short documentary of the Navicula x Kopernik Australia Tour in December 2017 in a press conference at K-Day.
In the spirit of celebration for its 8th birthday, K-day will feature eight performers and artists including Navicula, The Hydrant, Nostress, Antrabez, Sandrayati Fay, Rizal & The Rasendriya, and UbudDub as well as a day-long live mural performance by Bali-based French artist Sautel Cago. The event will also host a community pop-up market, with snacks, arts, and crafts.
For more information:
Vanesha Manuturi | Communications Officer
vanesha.manuturi@kopernik.info | (+62) 812 9742 3692